The Walled Garden Café, at Derwen College, is welcoming back customers, and there's a new look and a new menu.
Derwen Walled Garden Café, in Gobowen, near Oswestry, has reopened with a bright new look and delicious home-cooked menu. And, both have already garnered high praise from visitors.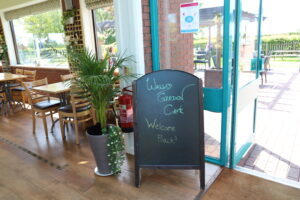 The college is welcoming back customers to eat inside the newly redecorated Walled Garden Cafe. Or, for sunnier days, they can enjoy sitting in the outside seating area or stunning Walled Garden.
The Walled Garden Café at Derwen offers a fun new gardening-themed menu offering a range of delicious delights. For example, there's a Gardener's Breakfast for the early planters or a chunky sandwich for those who need a lunch-time boost after some heavy digging. So, there's certainly something for the whole family.
The menu features breakfasts, sandwiches, jacket potatoes, salads, paninis, soup, hand-made cake and the new 'sandini' which has become a hot topic. For youngsters, there's the 'Seedlings Lunch Box'.
Wonderful reviews
Pete Evans. Commercial Manager, says that staff and students are over the moon to welcome back customers to the Derwen Walled Garden Café. Feedback from visitors, he says, has been overwhelming.
"Everyone is loving the new garden-themed menu because it has something for everyone, even those who don't have greenfingers!
"The new 'sandini' has got people talking. It has been likened to a toasted sandwich, but we think it's a bit more special than that."
"Visitors are enjoying our outside areas on sunny days. But for the more dreary days, we've brought an al fresco flavour inside as well.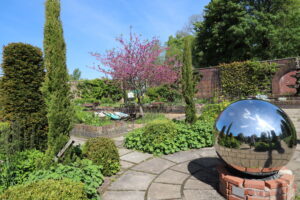 "It's wonderful to see our regular customers returning and to meet families, home-workers, couples and gardeners who are discovering us for the first time. "
As well as the delightful Walled Garden Café, the Derwen College site also features a new 'Vintage Advantage' charity shop and a well-stocked Garden Centre and Gift Shop, along with free parking and a friendly welcome.
For more information about eating and shopping at Derwen College, and to see the new menu, go to www.visitderwen.co.uk