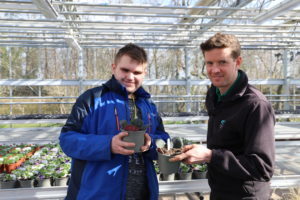 Derwen College celebrated National Careers Week, from 2nd to 7th March with a host of fun and informative activities to support students towards future employment.
Students at the specialist further education college for young people with special educational needs and disabilities (SEND) took on work-related tasks and challenges in Horticulture, Retail, Hospitality and Housekeeping, and Performing Arts.
The week also saw the official launch of a ground-breaking new CV Builder 'app' that the college has developed to enable people with SEND to create and send their own CV to potential employers, as well as the launch of the College's Skills Live @Derwen 2020 Competition which take place on 23rd June.
See more pictures from across the College in our Facebook Careers Week album.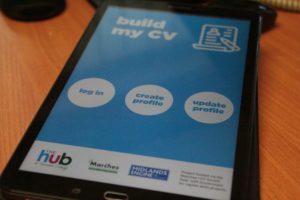 Poster competition
Students were invited to take part in a poster competition highlighting the work and independence skills they had learnt with us. The 'I couldn't, but now I can …" competition received 47 entries which demonstrated a huge variety of skills. Themes varied across employment, independence and social skills. They included skills such as using a till in the Orangery Restaurant, learning lines for a performance, making sandwiches, using kitchen knife skills, folding clothes and going out to work in the community.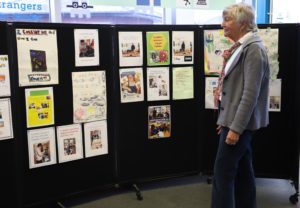 Of the competition, Derwen College Governor Barbara Court said: "It was inspiring to see such a large number of entries covering a diverse range of skills and knowledge that students recognised they had acquired whilst at College. These were transferable skills that will serve students in their work and independence skills at College, and in the future."
A Future Aspirations workshop explored the key concept of 'hope,' to help battle anxiety and stress devised from the anticipation of post college life. Resources and video material were provided by #NCW to help inspire and challenge positives expectations and aspirations for career development.
Supporting students towards employment
Derwen College works hard to equip students with the skills and tools necessary to support them towards employment. We have an on-site restaurant, café, print shop, Garden Centre, Shop and mini Hotel 751 that offer work experience for students. Derwen also works with national and local businesses to provide relevant off-site work placements for students, preparing them for employment when they return to their home area.
With technical support from app developers Hunter Bevan Ltd, the college has created and developed innovative new apps to further support students into work. We have developed a suite of apps as part of a 'Support Work' project, funded via the Marches LEP Growth Deal with Government for capital skills projects.
The College is now looking forward to further promoting work skills during Skills Live @Derwen competitions on 23rd June. The College is hosting competitions to showcase student skills for potential employees across the UK, with entries welcomed from this week. For more information visit www.derwen.ac.uk/competitions/
Derwen College Quality Manager Samantha Brown said that the College is constantly supporting students in the pursuit of suitable employment, and they were pleased to focus on National Careers Week.
She said, "Careers Week provides a platform to celebrate the wider world of work. By embracing an across-college approach to career guidance and providing an insight into future work or learning possibilities through positive and fun exploration, we hope to empower students to develop and express their own aspirations."