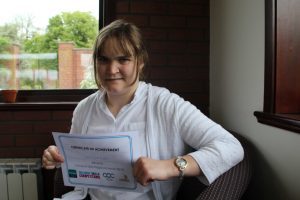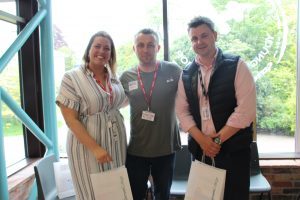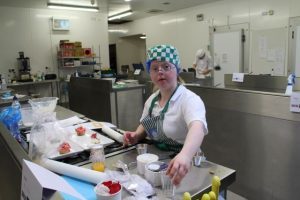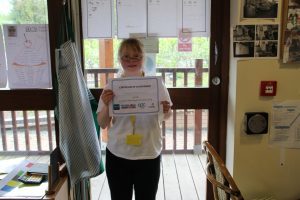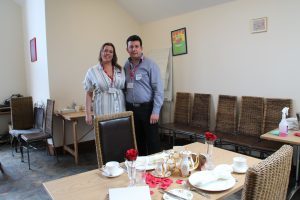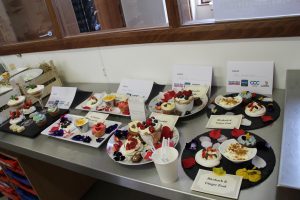 Learners from colleges from the West Midlands entered the Inclusive Skills competition for young people with learning difficulties and disabilities, hosted by Derwen College.
Students took part in a Royal Wedding-themed Restaurant Service competition, where they had to lay a table for two fit for royalty.
The Catering competition saw students serve up a Trio of Desserts – including cupcake, meringue nest and miniature dessert – with a British theme.
Derwen College student Carter Gough received Gold in the Table Laying category, with Zoe Smith from Warwickshire College achieving Silver.
Derwen College students Adam Ffoulkes-Fenner, Rebecca Spalding and Georgia Carr received Gold, Silver and Bronze in the catering category.
Gold medal winners Adam and Carter will now go on to represent the college and the region at the national finals at WorldSkills UK LIVE, at the NEC Birmingham, in November.
The competition was judged by industry experts Emilio from Oswestry Prezzo, Sarah Blowers and Scott Mulvaney from Premier Inn and Gareth Hipkins from Bidfood UK.
Certificates were awarded by Derwen College Assistant Principal Simon Birch, who praised the hard work of all the colleges involved, and thanked the judges for their time and support.
He said: "The standard today has been absolutely brilliant and is testament to the hard work of students and tutors. We talk a lot about students working to industry standards and today they have shown skills in hygiene, health and safety, presentation and flavours.
"Thanks also to our judges who are independent industry champions."
Chloe Hughes, Programme Manager of Hospitality & Catering Studies, said how proud the department was of its students.
She said: "We are proud of all the participants who have worked extremely hard and look forward to the Birmingham finals."
Projects and Partnerships Co-ordinator Laura Griffiths said that the skills competitions, run in partnership with Natspec and the Association of Colleges, are all about showcasing the skills of learners with learning disabilities.
She said: "Inclusive Skills Competitions enable young people with learning difficulties and disabilities to showcase their work skills and growing independence.
"Learners with learning difficulties and disabilities are under-represented in the work place. It was wonderful to have the opportunity to showcase their skills to potential employers."