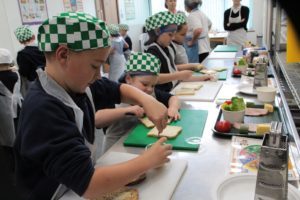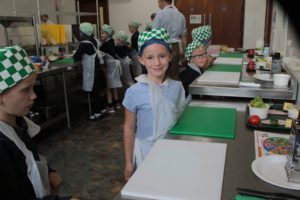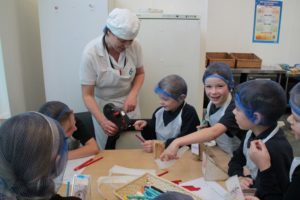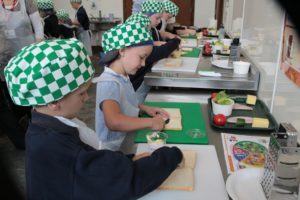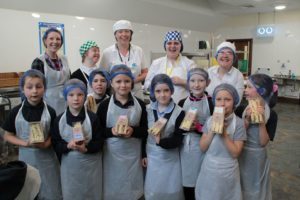 Pupils from Morda CE Primary School visited Derwen College, in Gobowen, as part of their Eat Well Week this month.
The school's 'Rockies' class visited the college for a practical activity to prepare a healthy snack with Derwen College hospitality students and staff.
Eat Well Week took place between Monday 1stand Friday 5thOctober. The week was part of the Morda Living Well project when pupils took part in lots of fun and enjoyable activities as they learned about keeping themselves healthy by eating well.
There were a variety of activities going on, pportunities for trying new tastes, as well as trips out for some classes and visitors coming to school to cook and bake with pupils.
Rockies learned about the Eat Well Plate at Derwen College as well as preparing a healthy snack with the students and staff.
Ahead of the visit, Derwen College Student Voice co-ordinators Sarah Laszlo and Sue Richards delivered disability awareness training to the whole of Morda school during their morning assembly.
Fundraiser Anna Evans and Commercial Development Manager Pete Evans took a Derwen College pop-up market stall to the school. Sales of home-made jam, chutney, cakes, and breads created by hospitality students, as well as plants from the Garden Centre, did a roaring trade, sales raised more than £80 for the college.
Amy Snow, Marketing Co-ordinator at Derwen College, said: "Thank you to Morda CE Primary School for making Derwen College part of their Eat Well Week. It was a pleasure to welcome them to the college to work alongside our hospitality students and staff."
Derwen College, in Gobowen, near Oswestry, is a specialist college for young adults with learning difficulties and disabilities. The college offers students the opportunity to learn new skills in real work environments and to learn life skills which will enable them to live as independently as possible.
Hospitality and Customer Services is one of the core vocational areas at Derwen College. The college has received three consecutive 'outstanding' Ofsted gradings.
For more information on Derwen College events and leisure facilities visit www.visitderwen.co.uk.