Santa's little helpers gleaned a little extra help relating to children with communication difficulties this Christmas.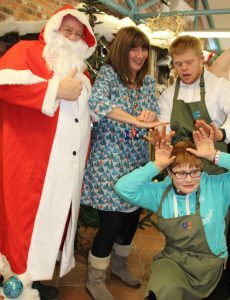 Derwen College ran a signing workshop ensuring that stand-in Santas and elves had no problems understanding what all children who visited them wanted in their stockings this year.
The 2.5-hour fun Makaton workshop taught the essential signs and symbols to make the grotto experience magical for youngsters of all abilities. Those involved even learnt, then performed, the Makaton signs to 'Merry Christmas Everyone'.
The workshop was run by trained Makaton tutor Julie Hawkins. Its aim was to teach Shropshire Santas and Derwen College staff a handful of Christmassy signs and songs to help them communicate with children and youngsters with learning difficulties and disabilities.
Makaton is a language programme using signs and symbols to help people to communicate. It is designed to support spoken language and the signs and symbols are used with speech.  Julie Hawkins, Head of Speech and Language Therapy at Derwen College and Senior Makaton Tutor, ran the Get Santa Signing Workshop at Derwen College with Local Makaton Tutor James Worthington.
Julie said: "Sixteen people attended the event including teachers from a local school, Hope House Children's Hospice, and our own Santa, elf and college staff. We had great fun and concluded with some of our students singing and signing 'Merry Christmas Everyone'. We all thoroughly enjoyed it and hope to do it again next year."
The idea for the Santa Signing Workshop came about through a partnership between The Makaton Charity and Weardale Railway, in Co Durham.
Julie explained: "Last year, The Makaton Charity developed Makaton signs and symbols to support Santa on the Weardale Polar Express. A mum filmed Santa signing to three-year-old Betsy – a little girl with Down's Syndrome – which made her Christmas magical. The video went viral, with more than 50,000 views. From there two Makaton Tutors Amanda Glennon and Nicola Pike developed a Makaton Workshop to teach Santas to sign. We were pleased to run our first workshop this year."
Watch the video of some of our santas singing and signing to Merry Christmas Everyone with a little help from some students.