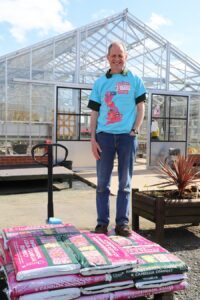 At Derwen College, we're celebrating milestone work anniversaries this term, including one member of staff who has clocked up an amazing three decades with us.
This month, Nursery and Production Manager Paul Moss marks 30 years working at Derwen.

Paul joined the college on 4 November 1991 as a Senior Gardening Instructor.
In 1996 he started his teaching qualification, and in 1998 became a tutor within Horticulture.
Throughout his 30 years here, he has had many roles including being Head of Department for Horticulture. Paul is now our Plant Production Manager responsible for plants and seasonal produce for the College and supporting our commercial activities including providing (and potting) the amazing flowers you see across Oswestry town centre.
Plants don't answer back!
During his time at the College, he has seen many changes and worked with many different students and staff. His love of working outdoors with students on a wide variety of Horticulture tasks remains as strong as ever. He says: "I have been very lucky to have been involved with plants for all of my working life and I think it has been good for my wellbeing. Plants don't answer back!
"I have particularly enjoyed the summer and autumn bedding plant schemes we have done in the community, including Oswestry, Llangollen, Cefn Mawr and Gobowen."
Even during the pandemic, Paul remained busy, helping to order stock and keep the Garden Centre running, and taking and delivering orders.
Away from the plants, Paul says he has enjoyed taking students on trips, especially to his beloved football club.
He says: "I have enjoyed taking the students to see the best team in the world: Stoke City FC; and managing to convert at least a dozen students over the years!"

Natalie Bellis, Derwen College Director of Human Resources and Estates, says:
"Paul has been part of the Derwen family for 30 years, and he has made an outstanding contribution to our success throughout this time. His work within Horticulture and the Garden Centre is appreciated by the students, clients, your colleagues and us."

The following staff also mark significant anniversaries with us, this term:
Carys Hill (Care) – 20 years' service
Emma Dodd (Safeguarding) – 10 years' service
Sharon Jones (Garden Café) – 10 years' service
Tim Mason (Estates) – 10 years' service

Thank you all for your dedication and service to the College.