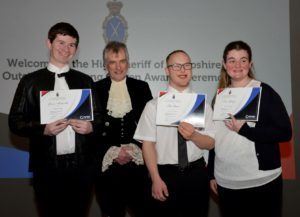 Three Derwen College students have been rewarded for their hard work and community spirit at a prestigious awards ceremony.
Derwen College students Cerys George, Sam Innes and James Ashworth were nominated for their work in College and the community at The Shropshire High Sheriff's annual Outstanding Young Citizen Awards.
The event was hosted by Telford College and was attended by the three students from the college for young adults with special educational needs and disability (SEND) and autism. Cerys, Sam and James were all invited individually on to the stage to receive certificates watched on by staff and family.
Student Cerys George, from Shrewsbury, was rewarded for work in the community with sign and dance group Derwen on Tour and storytellers NarraTours. As well as for representing fellow students on the Student Union Board, and for her progress in Performing Arts and independence skills.
James Ashworth, from Abermule, in Powys, was nominated for his progress in the hospitality industry. This included winning first prize in the college-hosted Derwen Skills Live 2019. And for securing an evening work placement at Lepones restaurant in Oswestry.
Retail student Sam Innes, whose family live in London, was praised for his work raising awareness of Derwen College Charity, especially the Agnes Hunt Village project. He took part in activities to raise money for the charity, and spoke to an audience at the Agnes Hunt Village project launch about how living in the bungalows was progressing his independent living skills.
A difference in the community
The Young Citizenship Awards saw High Sheriff Dr Josh Dixey present certificates to school children and college students from across Shropshire who had worked to make a difference in their community.
Telford College Principal and chief executive Graham Guest said:
"This is a wonderful way to highlight and celebrate the many endeavours carried out by young people in our communities.
"Whether it's voluntary work and community activities such as fundraising, youth work and mentoring, or environmental projects caring for a family member or being involved in a youth council, there are all kinds of reasons why young people deserve to be recognised."
High Sheriff Dr Josh Dixey said:
"This prestigious event has been running for a number of years, and the awards are given in recognition of excellence and outstanding attitudes and actions among young people."