At Derwen College, our values are key to our success. We strive to be Ambitious, Caring, Collaborative, Inclusive and Creative. This month, our blog focuses on our CREATIVE value.
There is a huge amount of creative work carried out by students and staff at Derwen College, and not just on the Creative Arts pathway – although that's as good a place to start as any.
DOT – Derwen on Tour – are the college's sign, song and dance group. Each year a group of Creative Arts students perform using Makaton signs and dance, and have appeared on stage at local and national events. They recently performed in front of more than 5000 people at a Premier Inn event hosted by television personality Rylan Clark-Neal, receiving standing ovations.
They have also been an integral part of the Llangollen International Eisteddfod Inclusion Project, and will be making appearances at Oswestry Lights Switch on, Hope House, Llanfyllin Christmas Markets and Llys Jasmine Care Home over the coming weeks (see performance dates here).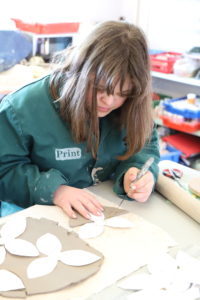 Creative Arts are busy over the Christmas period designing and producing hand-made cards, gifts and arts to be sold in the College's Garden Centre Shop and online at Folksy.com. Work created by students is always for a purpose, whether to be sold at our shop or displayed in our annual exhibition or as guest artists at local galleries such as Oswestry's The Qube.
As an outstanding College, Derwen strives to be creative in all curriculum pathway areas of learning, as well as in providing outstanding opportunities for students in their work, care, wellbeing and enrichment.
At Derwen, we tailor each student's curriculum to their agreed outcomes. Real-work opportunities take place on site in the Garden Centre and Shop, Print Centre, Garden Café, Orangery Restaurant and Hotel 751 as well as off-site with a range of industry partners.
The innovative ways we devise to help students develop their independence skills, such as through our unique Travel Training programme, are just part of Derwen's 24/7 learning environment. Here, every moment matters towards our students' learning and development, towards their future goals.
Our unique bungalows village – the vision of our founder Dame Agnes Hunt – is the epitome of creative thinking where students live and learn independence skills equipping them for their future. Agnes Hunt Village is currently being remodelled to provide the very best learning and living environment. For this to happen effectively, we have involved our students, staff and community in the upgrading and are creative with design and partnerships.
Creativity is essential in our college-wide Positive Behaviour Support (PBS) initiative – supporting students and staff in identifying and minimising behaviours that challenge and create barriers to learning; the ability to think creatively and look for new perspectives is key to the success of PBS. For example, through the use of innovative teambuilding Lego-based therapy, students work together to build models developing social skills such as turn taking, collaboration and communication. We have found that the therapy enables students to use their interests to motivate their own learning in a situation that is fun and engaging.
Creative thinking is encouraged in all areas of College to support students in being the very best that they can be to ensure they realise their ambitions for the future.