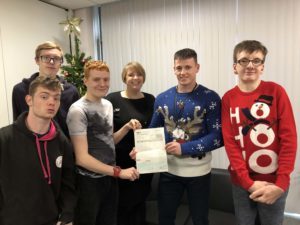 Derwen College has received a generous festive gift – a donation towards new equipment and day trips for its day students.
Aico Ltd, in Oswestry, has donated £1000 to Derwen College's satellite sites. In addition to a main campus in Gobowen, near Oswestry, the college has three satellite sites. These smaller sites for day students are at Walford, in Baschurch, near Shrewsbury; Craven Arms; and Higher Penley, near Wrexham. The three satellite sites offer students the opportunity to learn new skills in real work environments.
Derwen College Area Satellite Manager Peter Leddington said that staff and students were delighted with the kind donation which will help learners to develop work skills towards their chosen career pathway.
He said: "To say we are over the moon is an understatement. The team and our students will be really pleased. We are very proud to be working with a Shropshire-based company that takes education and social responsibilities so seriously. These funds are supporting a college that changes people's lives.
The donation will be used to purchase equipment to support both the educational side and added enrichments to life skills, these include new sports, arts and horticulture equipment and supporting costs of trips to galleries, sports facilities and broaden our learners' social confidence."
Aico Ltd is the market leader in residential fire and carbon monoxide (CO) alarms in the UK. Marketing manager Jo White visited the Walford site to present a cheque to students and staff.
Aico's marketing manager Jo White said that they were very pleased to be supporting the work and life skills training at Derwen College's satellite sites.
She said: "Every member of staff at Aico were given the opportunity to put forward a charity of their choice to receive a donation. I nominated Derwen College satellite centres because I worked alongside them for many years while working in education and saw first-hand the difference that the satellite centres make to young people's lives."
Derwen College, in Gobowen, is a specialist college for young people with learning difficulties and disabilities. The college offers students the opportunity to learn new skills in real work environments and to learn life skills which will enable them to live as independently as possible. The college has received three consecutive 'outstanding' Ofsted gradings and has been shortlisted as Specialist Provider of the Year in the TES FE Awards.