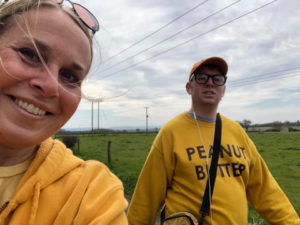 A Derwen College student and his family have raised more than £1500 for the college on a sponsored walk around their home village.
Student Carter Gough, who is a Hospitality and Housekeeping student at the specialist Shropshire college, took on the 10km challenge when the college's charity sponsored walk was cancelled due to the Covid-19 restrictions.
Student Carter, his parents Pam and Lloyd, and his sister Madison decided to honour their commitment to the Derwen College Sponsored Walk by walking 10km around their home village in Worcestershire.
The family took on the walk on April 5th, starting at 11am which was the exact time that the original walk had been due to take place. The family were delighted to raise a phenomenal £1500 for Derwen College Charity.
Pam Gough said: "We had already gathered lots of sponsorship before the walk and before the government lockdown measures were put in place. But we wanted to honour the donations made by our friends and family. Also, the event was on the family calendar, and Carter was adamant it had to happen so we did the walk our way.
"We then posted pictures doing the walk on our Facebook page, and other friends and family decided to sponsor us too, therefore we raised even more money."
This is Carter's final year at college, and his friends and family were keen to support the college to show their appreciation of his progress.
"Many of our friends and family are aware of how important Derwen College has been for Carter," said Mrs Gough.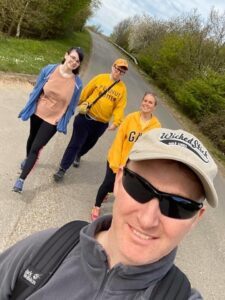 "The independence skills and confidence he has gained has been huge. We have gone from a young man who mainly communicated using sign language, pictures and very limited speech to now having conversations. It has been amazing. He is leaving college with real work and life skills, and we know he is capable of working independently.
"For Carter, being able to communicate his thoughts and feelings, and frustrations, has been vital. He can tell us how he feels and what he wants; it has made such a difference to his confidence. That is how much of a game changer Derwen College has been for Carter."
Thank you to the Gough family
Fundraiser Anna Evans said:
"We are so grateful to Carter and his family for thinking about Derwen College during these very uncertain and worrying times. To have raised this amount for the college is wonderful, and we will be using this donation to boost our Agnes Hunt Village project appeal, which is still ongoing.
"We aim to refurbish and renovate our unique complex of bungalows at Derwen College which provide students just like Carter with the setting to learn how to live independently and to care for themselves. Carter himself has lived in the Agnes Hunt Village, and he knows just how important these facilities are for young adults with SEND. We thank the Gough family for their wonderful support."