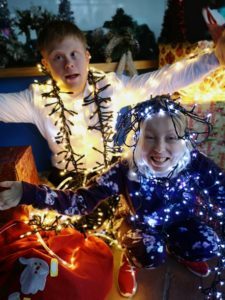 A project to create a glittering Christmas lights display at Derwen College, near Oswestry, is gaining momentum thanks to the support of staff and the local community.
The plan is to light up the commercial areas of Derwen College, in Gobowen, which are open to the public seven days a week, for the Christmas period. Staff have been giving and lending their own Christmas lights to the scheme. The college has also been supported by local and national businesses.
All sorts of lights have been donated from small indoor lights to large outdoor Christmas lights, and the display is set to give the area a traditional Christmas atmosphere.
The lights display will be on show at the Festive Evening late night opening on Wednesday, December 5th from 5pm-7pm. This annual event will showcase all the beautiful handmade crafts and food made at Derwen College, lots of children's craft activities and a Santa's grotto.
But the college is appealing for more lights to make the display as spectacular as possible.
Anna Evans, Fundraiser for Derwen College said: "This is the first time we have tried to light-up Derwen College for Christmas and we want staff, students and members of the public to come and enjoy the display when it's all up.
"We have had a great response to our lights appeal so far, and are especially grateful to the companies who have donated some fantastic lights. But it would be fabulous to have more donations. This is very much for the students and the community – we are hopeful this project will grow and develop year on year."
Businesses who have kindly donated lights and decorations include Oswestry home and garden superstore Colour Supplies and Lancashire company Festive Lights.
If anyone would like to donate unwanted Christmas lights to Derwen College please get in touch on 01691 661234.
Derwen College's commercial areas are open to the public providing work experience for students at the Orangery Restaurant, Garden Café, Garden Centre and shop. These are open over the festive period offering Christmas menus and shopping.