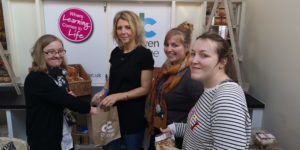 Derwen College students were pleased to welcome their first customer to a new shop unit at Wrexham Butcher's Market.
Students from the specialist residential college in Gobowen launched the Derwen College shop in the town centre market this week. They were delighted to welcome shopper Mel Jones as their first consumer through the door.
The new Derwen College shop will be open every Monday and Friday. It will be staffed by Retail students and supporting staff, sells hand-made bread, cakes, jams, chutneys, gifts and crafts made by the college's Hospitality and Creative Arts students. Additionally, it will stock a range of plants from the college's Garden Centre and screen-printed greetings cards designed and created by students at the college.
The shop also serves as a showcase for student-led upcycling business Hwre which is based at Derwen College satellite site Ashdale House, near Wrexham. Students at the site near Wrexham produce upcycled crafts, furniture and gifts as part of their learning and work placements.
Derwen College Commercial Development Manager Pete Evans said he was pleased to launch the new shop to sell the college's Made@Derwen range and provide work placement opportunities for students.
He said: "We were excited to be able to open at Wrexham Butcher's Market and sell our hand-made produce, crafts and plants every Monday and Friday. Being part of this bustling market offers an ideal opportunity for us to sell our Made@Derwen range of produce created by students as part of their vocational learning. Our students enjoy meeting new customers and practising their customer service skill in a real working environment."
Retail students also have a stall at Oswestry Market every Wednesday and Llangollen Market every Tuesday.