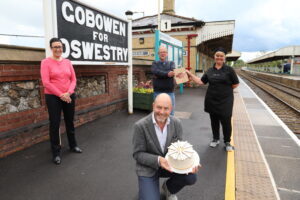 The Station Café in Gobowen marked a welcome return to the heart of the community with a bespoke cake that spelled out its very special qualities.
The café, which is run by students from specialist further education provider Derwen College, has reopened to the public. Gobowen Station Café welcomes regulars from the community as well as commuters and day trippers taking the train. The café also provides young adults with special educational needs and/or disabilities (SEND) with work experience, supporting them to learn the skills to work in hospitality after leaving college.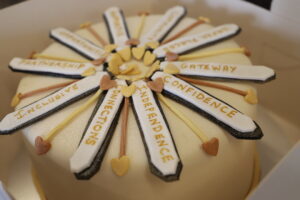 The celebration cake – made by Hospitality & Food staff and students at Derwen College – symbolised the partnership between independent rail agency Severn Dee Travel, the Chester to Shrewsbury Rail Partnership and the College. Each slice spelled out a word that described this unique relationship including: Inclusive, Community, Connections, Opportunities, Independence and Partnership.
Unique partnership
Derwen College Commercial Manager Pete Evans said that the idea for the cake came about during a conversation with Chester Shrewsbury Rail Partnership Community Rail Officer Sheila Dee.
He said: "We were talking about how unique our partnership is. We decided that what we did at the station was very much like a cake as it illustrated so many ingredients being brought together. Gobowen Station Café is a mixture of many things that benefit many people equally and everyone has their slice of the cake.
"I was talking about a metaphorical cake, but Sheila loved the idea, and said "make that cake to celebrate our reopening! We are lucky to have experienced cake baker and decorator Tracey Southern amongst our Hospitality & Food staff. So here we are!"
Severn Dee Travel and Derwen College are excited to welcome back commuters and visitors from the local community from 17th May. Gobowen Station is much more than simply a train platform, it's a popular community hub as well.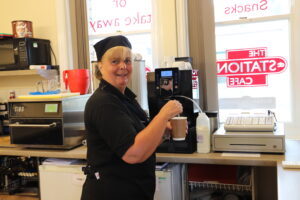 Sheila Dee explained: "We are blessed that at Gobowen Station we have Severn Dee Travel, a long established rail agency but a not for profit, community-based company which always has had a community ethos. I work for the Community Rail Partnership for the line so to have had this on my patch for all my time in this job has been amazing. This has meant we have been able to develop really deep meaningful relationship with them, as with Derwen College.
"We are thrilled to welcome this wonderful partnership back, and to be able to serve the community once more."