Derwen College students Tom and William were keen to thank everyone who walked, supported and donated to make the college's first virtual challenge a resounding success.
Students and staff at Derwen College, in Shropshire, have been celebrating the success of their first ever virtual Derwen fundraising challenge, which has raised more than £6,000 for the college.
The specialist further education college, near Oswestry, saw teams of six take on the challenge of walking or running 874 miles during the month of August in the college's Land's End to John O' Groats (LEJOG) Virtual Charity Challenge.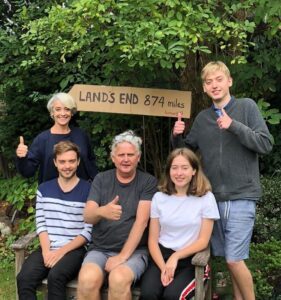 Each Derwen team had to complete the miles by working together. With each person walking at least five miles every day throughout August to stand a chance of completing the virtual challenge.
Derwen College Fundraiser Anna Evans said: "Walking five miles every day, for 30 days was a real challenge for many of us. It meant you had to keep up the pace continuously otherwise you were dangerously behind.
"I, for one, missed a few days of walking due to rain and bad weather. Before I knew it, I had 20 miles of walking to catch up on. It was quite a challenge in the end to complete the mileage. But because you are part of a team, you don't want to let anyone down. On the last day of the challenge, I walked over 18 miles. I still have the blisters to prove it!"
Two students and their families also took part raising more than £3,000 between them. Tom Alexander and William Chapple took to walking, running and cycling around their local areas. Tom from Hanwell, London, discovered many new walks and pathways in London. He kept everyone at college updated with lots of photos and descriptions of his outings.
William and his mother, from Stowmarket, Suffolk, did lots of walking, running and cycling. They have said they really enjoyed getting fitter.
Importance of fundraising
In all, five teams signed up to this new event which was organised to recoup some of the fundraising losses faced by the college because of the Covid-19 pandemic. Fundraising events such as Derwen College annual sponsored walk were cancelled. This resulted in fundraising losses of about £50,000.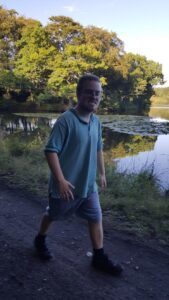 All donations from this event will go towards the Agnes Hunt Village project to refurbish and renovate the Agnes Hunt Village bungalows. These are used by students to learn and develop their independent living skills. Both Tom and William live in the Agnes Hunt Village when they are at Derwen College.
Tom said: "Thank you to everyone who took part in the LEJOG Challenge throughout August. Well done, job done and dusted! Thank you to everyone who took part and got involved in this amazing incredible journey throughout August."
There is still time to support the students and staff fundraising efforts in completing Derwen LEJOG. Every single penny helps, so please sponsor them here.