The therapy team at Derwen delivers specialist therapies targeted at each student's individual needs.
Counselling, Physiotherapy, Occupational and Speech and Language Therapy make up the College's integrated therapy team.
Therapy at Derwen College is delivered with an focus across residential, vocational and education settings. As your needs change, we ensure you receive the most relevant therapy for you to be successful and achieve your goals. The team will:
Identify the support you need.
Recognise your progress.
Review your targets.
Our team uses the universal, targeted and specialist model to deliver a service based on your individual needs.
Physiotherapy

We support staff to embed strategies into work and living areas to ensure your needs are met throughout the day, in all environments.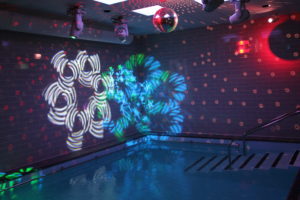 Physiotherapy includes:
Support for moving and handling.
Managing posture and movement.
Optimising independence and functional movement.
The physiotherapy team work closely with staff to ensure you reach your optimal potential and are ready to transition into adult life. The physio team will:
Assess and identify your specific needs.
Establish a structured therapy plan with relevant functional goals.
Review and monitor your individual needs.
Provide assistance and staff education to continue your support.
Physiotherapy sessions can be delivered in a number of ways:
Dry land therapy
This type of physiotherapy can include exercises to do in the work or living environment. It can also include specific timetabled exercise sessions.
Hydrotherapy
Sessions in Derwen's hydrotherapy pool promote muscle relaxation, and increase joint flexibility and strength. Hydrotherapy can also decrease pain and improve balance. Additionally, music and lights can be used within sessions to support sensory needs.
Rebound therapy
Rebound therapy is the therapeutic use of the trampoline to facilitate movement. This therapy promotes balance and body awareness, and helps to decrease or increase muscle tone (depending on need). Furthermore, rebound promotes relaxation and overall fitness and exercise tolerance.
Speech and Language Therapy

The Speech and Language Therapy team follow the Royal College of Speech and Language Therapy's Five Good Communication Standards. This approach is embedded throughout College as a guide for good communication practice.
As a student you have the opportunity to achieve your communication goals effectively in a real-life learning environment. A range of personalised approaches and strategies are used to meet your individual needs.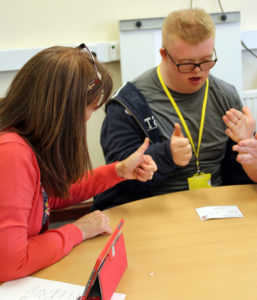 Speech and Language approaches may include:
Dysphagia assessments.
AAC devices.
Staff training and support.
The College has a team of qualified Makaton tutors who support staff and students to create a total communication environment.
Occupational Therapy

Occupational Therapy provision at Derwen supports students, care practitioners and teachers in all areas of work and independence.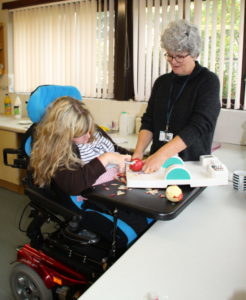 OTs (Occupational Therapists) use their specialist knowledge and work with you in a person-centred approach. They find solutions to physical, environmental, emotional and social barriers that limit learning.
The team will work with you to identify personalised strategies. They will also collaborate with the wider staff teams in curriculum and care to support new ways of doing things.
This is achieved through the provision of:
Classroom adjustments to support posture, seating, writing, vision, and hearing.
Sensory Integration assessments, sensory based approaches, and sensory diets to help students with sensory regulation.
Environmental Adaptations and adjustments to reduce physical barriers.
Assistive equipment and technology to increase independence.
Emotional regulation strategies e.g. Zones of regulation.
Training to share approaches with the wider staff team.
Nursing team
The integrated Therapy Team works closely with Derwen's nursing team. The team have specialist nursing skills in both general and learning disability care.
All students at Derwen College are encouraged to register with our local GP practice which ensures easier access to local services. This allows local professionals to manage each student's long-term or ongoing care. Alternatively, students may wish to remain with their current GP practice in their home area.
Nurses are on-site Monday-Friday 8am to 5pm throughout term-time.