Highly Specialist Therapists at Derwen College work together as an integrated team.
Counselling, Occupational Therapy and Speech and language Therapy make up the College therapy team with physiotherapy services also available.
Therapy at Derwen College is delivered with an integrated focus across residential, vocational and education settings. As students' needs change, we ensure the most relevant therapy is provided in a timely way. For you to be successful and achieve your goals we identify the support you will need, recognise your progress and review your targets .
Our team uses the universal, targeted and specialist model to deliver a service which is based on your individual needs.
Physiotherapy

As students prepare for life after College they are encouraged to take more responsibility to look after their own bodies. Physiotherapy promotes function and independence to help students live and work. The extensive Sport and Leisure programme also offers many opportunities to keep active. In this way students choose exercise for life, not just for now.
This may include:
Support for moving and handling
Managing posture and movement
Exercise therapy
Referral to specialist services
Speech and Language Therapy

Speech and Language Therapy supports Derwen College to follow the Royal College of Speech and Language Therapy 5 Good Communication Standards as a guide for good practice.
Students have the opportunity to achieve their communication goals effectively in a real-life learning environment. A range of personalised approaches and strategies are used to meet the needs of each student.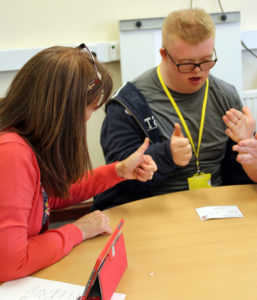 This may include:
Dysphagia assessments
Makaton signs and symbols
AAC devices
Staff training and support
The College is Makaton Friendly and has a network of qualified Makaton Tutors.
Occupational Therapy

Occupational Therapy at Derwen College aims to support students in a person-centred way by considering the daily activities that are important to the individual. They will work with students to find the best solution that supports them to overcome any challenges they may be experiencing. This will enhance their skills and opportunities for learning and independence.
This may include: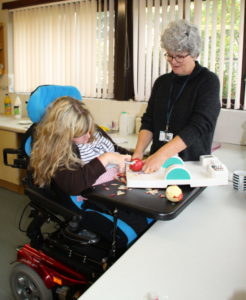 Sensory diets and approaches (SI level 2 qualified)
Environmental and assistive equipment
Referral to specialist services
Wellbeing Centre
The Integrated Therapy Team works closely with the team at the Wellbeing Centre. The College's team of experienced qualified nurses and a skilled health-support worker, all experienced in delivering care to students. The team have specialist nursing skills in both general and learning disability care.
All students attending College are encouraged by the nursing team to register with our local GP practice. This ensures easier access to local services allowing local professionals to manage long-term or ongoing care. Alternatively, students may wish to remain with their current GP practice in their home area.
The Wellbeing Centre is open Monday-Friday 8am to 8pm throughout term-time . A qualified nurse is on-call for care staff to contact during out-of-hours, for any urgent queries, which may arise within the residencies.