Staff and former students are among the many people paying tribute to pioneering Paralympic coach Anthony Hughes MBE who died suddenly on 30 December.
Anthony Hughes, a student, then teacher at Derwen, was an athlete, coach and champion for disability sport.
He went on to become National Performance Manager at Disability Sport Wales, and a leading force in Paralympic sport.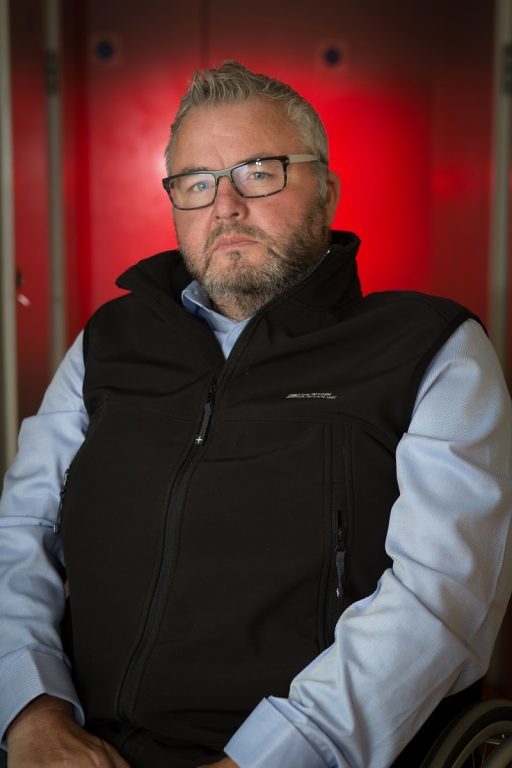 As a keen athlete himself, Anthony – who had muscular dystrophy – competed internationally in both shot put and javelin, including at the 1992 Paralympics in Barcelona.
Anthony was named Sport Wales Coach of the Year in 2011, inducted into the UK Coaching Hall of Fame in 2012 and was awarded an MBE for services to sport in 2013.
Anthony, a trained tailor, was a hugely respected and valued member of the Derwen College community.  His achievements were always followed by those who knew him, and we are incredibly proud to have worked alongside such an inspirational and influential part of Welsh and World para sport. Our thoughts are with Anthony's family and friends at this difficult time.
An unstoppable force
Anthony's ex-wife Karen, a former hairdresser at the College, has recently returned to working in the College's The Vintage Advantage charity shop.
She says: "A large part of our lives together were spent at Derwen College. We worked there and lived in one of the bungalows and had many friends there.
"It's been comforting to hear from many Derwen College staff and former students who remember him so fondly. His loss will be felt across the UK and national world of sport."
Memories from Derwen staff
Derwen College Learning Support Assistant Lin Hughes said:
"It was very sad news to hear about Anthony. I worked with him in the former Fabrics department. He was a great man to work for and with. I was a very new teacher at the time and his guidance was invaluable to me in my early years at Derwen.
"He never let his own disability get in the way. Anthony always put the students first, encouraging them to aim for their dreams, and participate fully in whatever was offered, especially with sports. He gave a lot of his spare time to training not only students but to other Paralympic athletes. He will be missed."
Derwen College Head of Quality, Dawn Roberts, remembers Anthony well, from when they worked in Textiles together. When he left College, she says she delighted in receiving messages from him, following his adventures from around the world.
She said: "Anthony trained as a tailor and went on to run the Fabrics department at Derwen College, training students to go on to get jobs at factories such as Laura Ashley.
"He inspired students, and everyone, to be the best version of themselves. He was a motivating head of department with a wonderful sense of humour. Anthony wasn't fazed by anybody or anything, and was a true champion for inclusivity. He was an inspiration to us all."
The funeral will be held in Cardiff and will be announced by his family once arrangements have been made. Leading figures from across the sporting world are expected to attend.
---