Performing Arts students earnt a standing ovation and rave reviews for a Summer Show attended by a packed out audience of families, friends and VIPs including television professionals.
Students showcased 'Included' – a performance about the importance of inclusivity and diversity.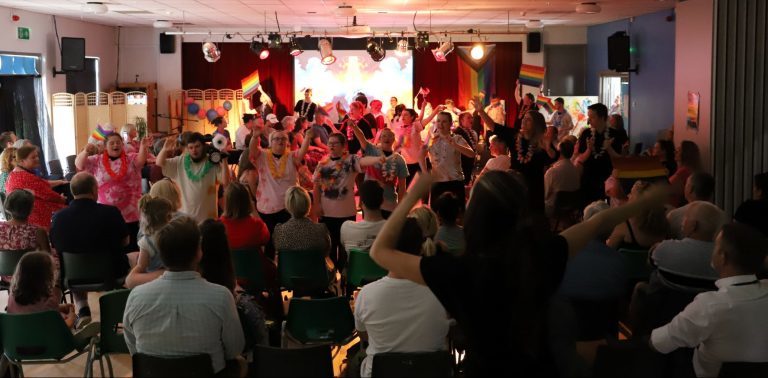 Guests at the show included actor 
Sam Retford,
who has starred in
Waterloo Road
and
Coronation Street.
We were also joined by
Hollyoaks
writer
Jayshree Patel
and
Hollyoaks
series producer
Philip Dodds
.
Students wowed the audience with the show which blended joyous song and dance with a vitally important message.
Our talented Performing Arts students acted, sang and danced scenes depicting the importance of acceptance and kindness towards everyone, regardless of gender, identity, race, religion or disability.
The show highlighted
Pride Month,
a celebration of the LGBTQ+ community. Students also clearly demonstrated that disability is not a barrier to achieving ambitions.
Television stars backstage
Actor Sam Retford and Hollyoaks' Jayshree Pate and Philip Dodds joined students backstage after the show. They praised the students for the inspirational performance. Also, commending them on their commitment, passion and talent.
Jayshree said:
"After a performance like that, we will definitely be talking about how Hollyoaks can continue to represent as diverse and inclusive audience as possible. We look forward to the possibility of working with Derwen College students in the future."
Performing Arts pathway lead, Jessie Vaughan, said: "It was a tough build-up with lots of commotions. But as always it all came together.
"The students were amazing, their resilience, patience and hard work paid off. The quality of their performances would not have been made possible without the hard work and dedication of students and staff. Now, bring on the Christmas show!"
Derwen College Principal & CEO Meryl Green said: "What another fantastic production!
"The team didn't shy away from some hard-hitting themes. To me, this was absolutely right for our college and our young adults.
"I enjoyed all the different 'scenes' and thought that they were linked very cleverly with strong, relevant messages. The quality of dance and singing was also amazing. Thank you Performing Arts for doing Derwen College proud!"
---