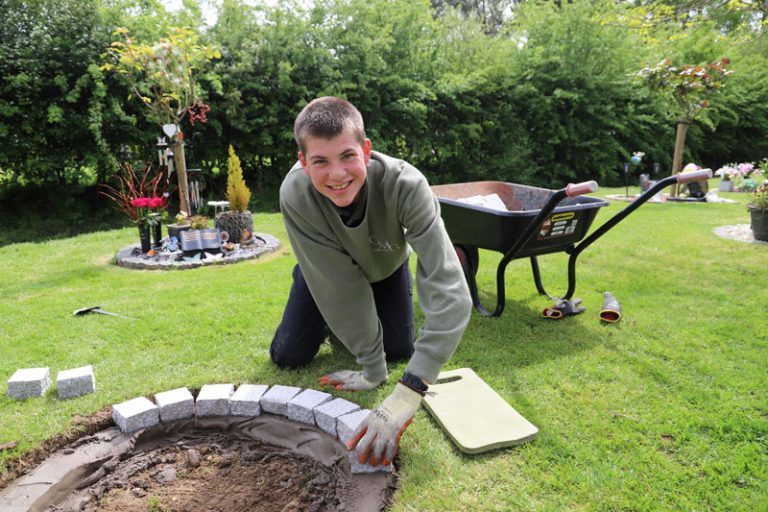 A dedicated Horticulture student has proved his skills and work ethic by leading the way as the first ever learner to get regular work placements at a national business.
Keen gardener Oliver works in the large memorial gardens every Wednesday afternoon, and has already completed a long list of jobs in just three weeks. He enjoys his placement so much that he says he's hoping to carry on a supported internship and get a job with the crematorium team. 
Oliver travels with teacher Ruth every Wednesday to the tranquil 33-acre site. He's cleared shrubs and ponds, planted roses, cut grass, and enjoyed using the industry standard leaf blower.
This week, he's turned his hand to building, working with concrete for the first time to help create one of the crematorium's personalised memorial gardens where families can choose a heart or circle shape to place a casket and remember their loved ones in a quiet and beautiful environment. 
Practical learning
Oliver, who is autistic and has associated learning difficulties, thrives in an environment of practical learning, and is quick to pick up practical skills. 
He is the first student to be offered a placement by Dignity Funerals, which runs 46 crematoria across the UK. 
Business Leader Kristian (check full name and spelling) says: "After talking to staff at Derwen Walford, and speaking to team member Peter Leddington who has worked at Derwen College previously, I was keen to see if we could create a working partnership.
"I discussed with head office, putting policies and plans in place to make it work. Oliver proved himself from the first visit. I want to support him as much as possible and see this as an ongoing partnership. 
"Oliver has great attention to details, arrives to work in the right uniform and on time. He fills in his time sheets, and is treated the same as every one of the business's 4,500 employees. It's a real preparation for adult life."
Oliver has also had to learn to communicate with members of the public and be considerate to visitors coming to the chapel or visiting memorials, who are coping with loss. 
Peter Leddington says: "He has had to learn to stop work when a hearse arrives, be respectful and quiet until the hearse and family cars have passed." 
Peter has worked at Emstrey Crematorium for six months, having come full circle since starting his career as an apprentice at the crematorium 33 years ago. He is relishing using his horticulture and teaching skills to support Oliver. 
Gardening opportunities
Teacher Ruth Braddick says: "It's a brilliant work placement for Oliver as there's so much variety. He has the chance to try out different areas of horticulture and gardening and is always learning new things but in a familiar environment, and building his confidence learning skills he's never tried before. It's expanding his knowledge of gardening opportunities."
Oliver says: "I like Derwen Walford because I can do gardening and use a lot of machinery and tools. I like working at the cemetery and would love to get a job here one day."
Oliver is part of the College's in-house gardening business Leaf It To Us, which supports community projects and local gardens. He also works at Cambrian Heritage Railways and won a recent Derwen College Spring Planter Competition against horticulture students from Walford and Gobowen sites. 
He also spends many weekends volunteering at Whitchurch Cricket Club completing duties as required for the grounds team. 
Derwen College Walford lead Liam sums up Oliver's work ethic and ambition. He says: "From my point of view. It's a pleasure to meet a young man who is so passionate about his studies and has a vision for the future of work. Day by day, Oliver is growing his confidence and developing his work and life skills. Keep it up Oliver!"
---