Derwen College is excited to be sharing our expertise in the special educational needs and disabilities (SEND) sector with educators in the Middle East.
We are happy and privileged to demonstrate our expertise, values and practices which make us a leading specialist college for people with SEND. So, we will be part of the global Arab Health Exhibition from 24 to 27 January at the Dubai World Trade Centre.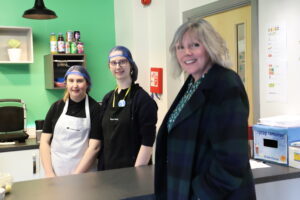 The event follows our participation in the Dubai-based Al Noor Centre 40th Anniversary Global Summit in December.  Derwen College Principal & CEO Meryl Green, and Head of Curriculum Zoe Wood, were invited to speak. Delegates were interested in the College's global expertise in vocational and employability training for people with SEND.
Covid travel restrictions have prevented Meryl and Zoe from attending the Arab Health Exhibition in person. However, the College is attending virtually as part of the Department for International Trade Midlands Engine UK virtual delegation. The College will feature along with its long-standing partners Starfish Labs. Starfish have worked with Derwen College to develop award-winning apps to support people with special educational needs and disabilities (SEND).
With technology and innovation taking centre stage, Arab Health is the leading medical and healthcare exhibition in the Middle East. Bringing together 3,590 exhibitors from 60 countries, the exhibition expects to see 56,000 healthcare professionals eager to learn, network and trade.
Forefront of sharing best practice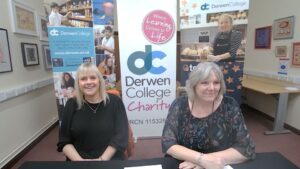 Derwen is an award-winning specialist further education college which offers exceptional vocational and independence programmes for young people with SEND. We are proud to be at the forefront of sharing best practice between nations and cultures.
The College offers bespoke staff training programmes for educational and care providers. The aim of these is supporting young people with SEND to transition from specialist education into supported employment. For many this also leads to supported or independent living after college.
Principal and CEO, Meryl Green, says:
"At Derwen College we have over 90 years of experience of supporting young people with Special Educational Needs and Disabilities (SEND) to develop the skills they need to lead the lives they want to. This involves training for employment and, just as importantly, developing those vital independence skills to take forward into adulthood.
"We are very proud of our results which speak for themselves with numbers of Derwen College leavers going into paid employment far exceeding the UK national average for young people with SEND.
'Never thought it possible'
"'We never thought it possible' is a common comment made about the progress of students at Derwen College and we are excited to be sharing our skills and experience globally. We look forward to enabling educators and carers from across the world to support young people to achieve their aspirations. Working together, we envisage a brighter future for people with SEND."
Global SEND expertise
"Derwen College recognises that there is worldwide interest in the experience and knowledge base that British Special Educational Needs and Disability colleges can offer to other organisations working in the SEND sector in other countries. There is some great work being done globally, and Derwen College are recognised as being at the forefront in vocational training for students with learning disabilities, and in training staff to deliver effective programmes with impressive outcomes for students".
Neil Bevan, Starfish Labs CEO, says,
"Arab Health has always been a productive exhibition for us, and I'm delighted to see Derwen College showcasing the award-winning apps we've developed with them, along with their expertise in SEND and in particular vocational and independent living programmes, to a global audience of clinicians and care professionals at the event this year.

"I'm excited to be supporting them in their export plans. Their 94 years of experience in working with people with disabilities and learning difficulties is already being very well received in sharing best practice and shaping post-school and college support in the Gulf states and beyond."
---