Our 'Leaf It To Us' horticulture team have been out in all weathers transforming the Derwen's Waterside Garden.
Students from Derwen College Walford have horticulture work placements at our Gobowen campus two days a week. Here, they are creating a landscaped peaceful outdoor haven.
As part of their horticulture work placements, the 'Leaf It To Us' team are working on a phased three-year plan. This involves improving the Waterside Garden. The garden will include a sensory area, water feature, lawn and area to relax.
Horticulture team Leaf It To Us have previously held work placements with Baschurch Parish Council, Whittington CE Primary School, and Ellesmere's The Jebb Garden.
Work doesn't stop for winter
Learning Support Assistant Dan Foster runs the Leaf It To Us business initiative. He says the team are looking forward to making good progress at Derwen over the term.
He says: "Work will definitely continue through the spring term, especially while the weather is fine. We are keen to demonstrate to our learners that even though it's cold, as long as the ground isn't frozen, covered in snow or waterlogged, work never stops!"
Roadworks near the College have restricted access for large vehicles. As a result, materials for the first phase were temporarily postposed. However, the team aim for these to be on site by the end of January. This will consist of drainage units, sand, cement, aggregate, bricks and paving for a patio area.
In the meantime, the team have been hard at work removing the soft fruit, hedge cutting, weed pulling, fruit tree pruning. As well as demolishing old beds and general tidying up ready for a huge skip to dispose of all the rubbish accumulated so far. Soil from the beds will be used to transform the landscape to begin the start of Phase Two in the autumn.
Fingers crossed that the winter weather doesn't hamper plans too much! We'll keep you posted.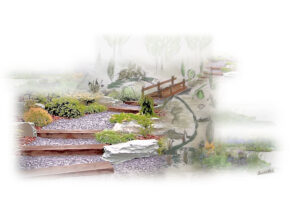 ---