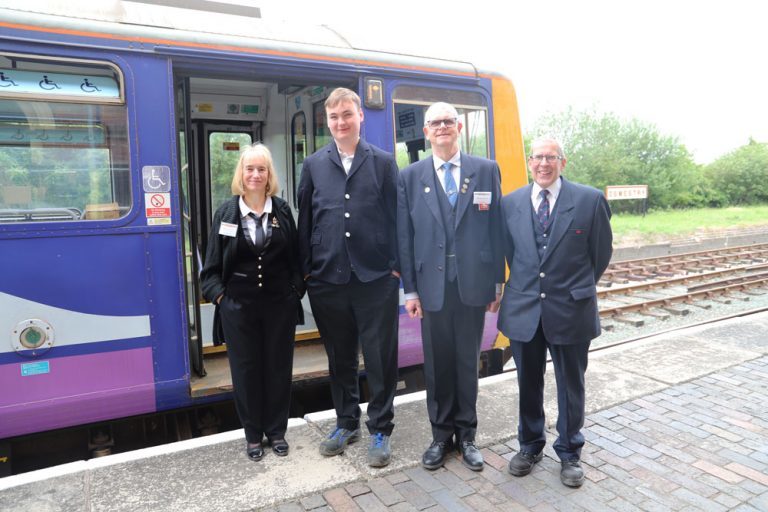 Derwen College Walford student, Harry, enjoyed a day as an assistant guard and ticket inspector, as a thank you for his work experience at Cambrian Heritage Railways.
Harry, who is a student at the specialist further education college, in Walford, near Shrewsbury, has a weekly work placement at Cambrian, helping to clear and maintain parts of the railway track
Harry is autistic and has some associated learning difficulties. He enjoys a work placement, every Thursday at Cambrian Heritage Railways, as part of his work with the college's horticulture enterprise 'Leaf It To Us'.
Train enthusiast Harry loves working on the railway and enjoys watching and waving at the trains as they come and go. He was thrilled to be invited to join the new Cambrian Wednesday service from Oswestry to Weston, especially as he was given a smart uniform and asked to help railway guard Rob. He was given the privilege of closing the train doors and made the official announcement when the train arrived in Oswestry station.
Accompanied by Derwen support practitioner Zoe Calloway, as well as by railway volunteers and passengers, Harry boarded the new Cambrian Heritage Railways Wednesday service from Oswestry to Weston Wharf and back.
Zoe said: "This opportunity has been Harry's dream since starting work experience at Cambrian Heritage Railways. It is a pleasure to work with Harry in all aspects of his collage life to see him overcome personal barriers and to reach his full potential.
"Harry has worked so hard at the Cambrian with the clearing of the vegetation around the two stations so this was wonderful for him to experience and see all his hard work pay off. To see Harry engage with the passengers and work colleagues at Cambrian Heritage Railways highlights how his confidence has grown over the last term's work experience. Not only has Cambrian improved his physical wellbeing, it has also boosted his confidence to engage with people he hasn't met before. Thank you, to the team at Cambrian."
Harry joined the Operations Department with the kind consent of Head of Operations Phil Bradley for a trip as trainee ticket inspector. The day was organised by Volunteer Coordinator Phil Liddell who works with Harry every week.
Harry said he was "very, very excited" to ride on the train and thanked volunteers who helped make it happen.
---