Our Performing Arts DC Theatre Internal Work Experience group welcomed students and staff from across the College to join them for a performance to raise awareness of the #DontScreenUsOut campaign.
Students took part in a powerful performance to stand up for what they believe in and raise voices against what they think is an outdated and offensive law against people and families with learning disabilities.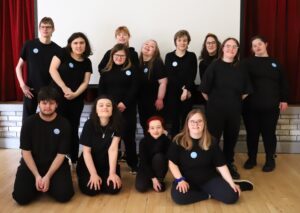 The performance was held in the run-up to World Down Syndrome Day, which we celebrate on 21 March.
The audience were taken on an emotional journey, which showed just what our students, and all young people with special educational needs and disabilities can achieve given the right support.
Our Principal Meryl summed up what the entire audience was feeling with this 'review'. She said:
"Just to say what a fantastic performance students put on today – 'Don't Screen us Out' – I loved it!
"As ever, with Performing Arts, it took me on a rollercoaster of emotions. It was really slick and well performed but also hard hitting in terms of the subject matter. I was particularly impressed with the quality of the singing – brilliant!"
"A huge 'thank you' to the Performing Arts team for your unfailing creativity and enthusiasm!"
---