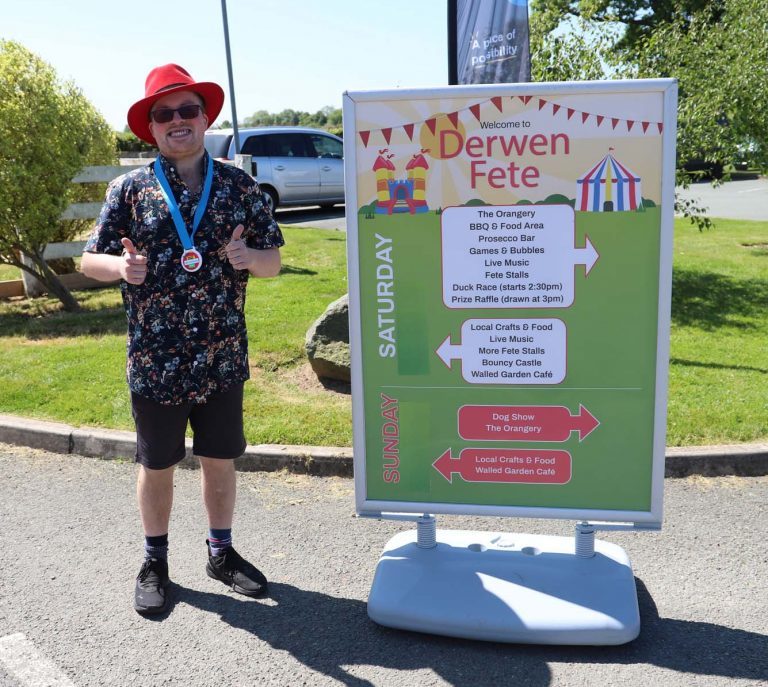 There were happy faces and wagging tails aplenty when hundreds of visitors – including walkers, runners and pet dogs galore – enjoyed sunshine and fun when they attended Derwen College Fete Weekend, making it the College's most successful fundraiser to date
The busy weekend from 27–28 May featured a sponsored walk, fun run, fete, dog show and dozens of crafts and gifts stalls. The event is expected to have generated a magnificent total of more than £25,000 for Derwen Charity, with sponsorship money still coming in.
Students past and present, families, staff, volunteers and the local community all visited the specialist further education college's bustling Marketplace over the weekend.
The sponsored walk and fun run took place on Saturday. The winner of the 10k fun run was triathlete Ian Laing, Congratulations also to 79-year-old Olive Morris who raised more than £600 on her 53rd walk for the College. Several runners achieved the 10k distance for the first ever time, and many walkers and runners raised amazing amounts of money.
First ever dog show
On Sunday, the College's first ever Dog Show was a huge success with crowds of well-behaved pooches lining up to compete in fun categories including waggiest tail, most handsome dog, cleverest dog and most appealing eyes. Judge Karen Boyce, of Beastly Thoughts Professional Dog Services, had an extremely difficult time choosing winners between such handsome and talented competitors.
Over the whole weekend, the College was host to up to 30 local artisan stallholders, there were games and activities, bouncy castles, and the College's outlets were all open, including a very popular ice-cream stall selling Derwen-made ice-cream.
This was the first year that the specialist college, in Gobowen, had combined so many events into one bumper weekend.
Derwen College Principal and CEO Meryl Green thanked everyone who attended who helped make the weekend such a success.
She said: "It was wonderful to see so many people support Derwen, through walking, running, entering the dog show, or simply spending money on stalls and in our The Walled Garden Café, Orangery Restaurant, Garden Centre and Gift Shop and Vintage Advantage charity shop outlets.
"We enjoyed some glorious weather, and appreciated all the happy faces and lovely feedback from everyone who attended. We are delighted that the weekend has generated more than £25,000 across the Marketplace, and there's still sponsorship money to come in.
"Thank you to everyone involved in making this our best fete yet!"
---