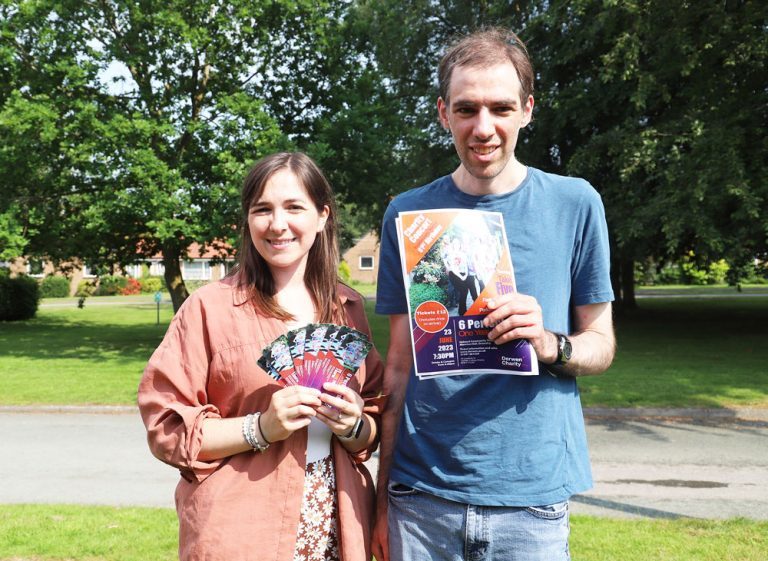 A local singer is among talent teaming up with talented Performing Arts students from specialist further education, Derwen College, near Oswestry, to raise money for the college charity – a charity which is close to her heart.
Bekah Plaisted, of group Take Five, will be in the spotlight at Holroyd Theatre, on 23 June, raising money for Derwen College Charity, where her brother Sam is a long-term resident.
Sam will be in the audience proudly cheering on his sister and College students, along with the rest of the family.
The concert is organised by Take Five's Mark Lord, who also has close ties with the College, as he's a governor there.
Mark Lord, and group Take Five, will be performing songs from the 1960s right up to the present day, at The Holroyd Community Theatre, Weston Rhyn, on 23 June. The concert will also feature sensational song and dance performances by Performing Arts students. Musical theatre, pop and even country tunes all promise to have the audience singing along and dancing in the aisles.
Take Five are Derwen governor Mark Lord, Tom Evans, Kate MacDonald and Jonathan Roberts and Bekah Plaisted. Derwen Charity is particularly important to singer and actress Bekah, as her brother Sam is a long-term resident at Derwen College.
Mark and Bekah have both seen first-hand how the College supports people with special educational needs and disabilities to reach their aspirations and live as independent a life as possible.
Super star students are straight back in the spotlight, after receiving rave reviews for the College's Summer Show just two weeks ago. They are also practising for a packed schedule of summer events and performances.
More sing-a-long songs
Bekah, whose day job is as a primary school teacher, said: "Sam, who is now in his 30s, has been a resident at Derwen since he was a student at 19, so we've seen first hand how the college and Derwen Charity supports students and clients with learning difficulties and disabilities.
"Last year's concert was such an incredible event to be part of, that when Mark suggested coming together again, we all jumped at the chance. The Performing Arts students are such talented singers, dancers and performers. The atmosphere is buzzing, and this year we're including even more sing-along songs, and we're encouraging everyone to join in."
Students from the College's Hospitality and Food pathway will be greeting guests and serving canapes and drinks on arrival.
Derwen College Governor and local Oswestry entertainer Mark Lord held his first charity concert for Derwen last year, to celebrate his 60th birthday. The event raised £3000 and was such a success that Mark has organised a comeback for 2023 with his musician friends.
Funds raised will support students and long-term residents with special educational needs and disabilities to achieve their aspirations, providing learning, skills and equipment to support them towards a more independent future.
Tickets are £12 and include drinks and canapes on arrival. You can buy tickets directly at Derwen College Reception and at Milano's, in Oswestry. You can also buy online or telephone Derwen College on 01691 661234.
---