Our Leaf It To Us team, from Derwen College Walford, were delighted to finish a planting project in Baschurch, after a frustrating two years of delays.
Students on the Walford site's Horticulture pathway run 'Leaf It To Us', a gardening and groundswork business which provides meaningful work experience in the local community.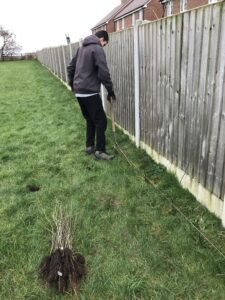 In autumn 2019, they were approached by Baschurch Parish Council to assist with planting some hedging in the playground off the Wheatlands housing development in Baschurch. The saplings were kindly provided be Woodland Trust.
Plans were, unfortunately, postponed because Covid-19 restrictions, but are now back on track, more than two years later.
Leaf It To Us Co-ordinator and Learning Support Assistant Dan Foster explained the delay and expressed their delight in finally being able to finish the project. He said:
"Lockdown put a stop to planting, and the stock was heeled in and stored. By the time we were allowed back out, it was completely the wrong time of year for planting bare root stock. It's only now that we have the right time, pairs of hands and conditions to plant.
It's nearly two years down the line, and we are proud to announce that we have bigger plants and a mixed woodland hedge in. We are very happy to be back out working in the community, and have a busy year ahead."
Leaf It To Us have previously held work placements with Baschurch Parish Council, Whittington CE Primary School, and Ellesmere's The Jebb Garden. They are also currently working on a new Waterside Garden at Derwen College in Gobowen.
---