Each Derwen College pathway has an industry champion – that is, a professional who runs their own business or works for a local company, and who offers their expert advice and guidance to our students.
One of our newest industry champions is for the Hospitality and Food pathway. Sophie Dillon runs the Old School House in Oswestry and looks forward to developing her industry champion role.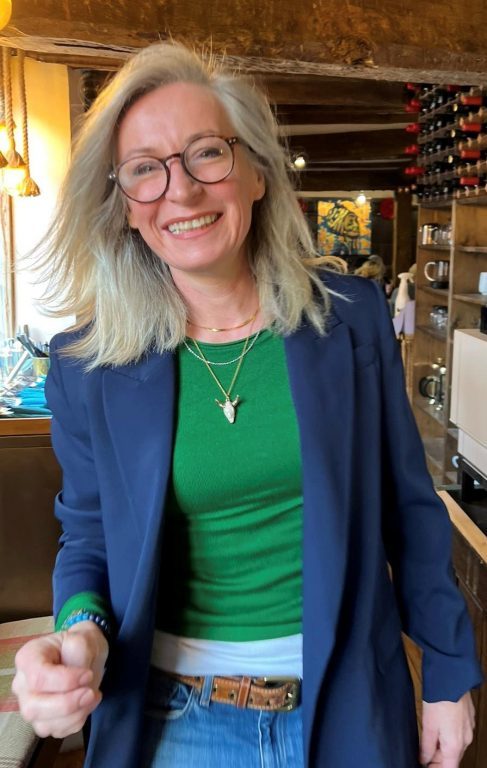 Whilst she is known for her café & restaurant business, the Old School House, and formerly Hayes Barns, Sophie has a wide-ranging work background.
Prior to moving to Australia, where she was a production manager for a stone-fruit farm, Sophie worked as a television set designer for 10 years. You can see design is still a large part of her personality as soon as you set foot in the Old School House, with vibrant pictures on the wall, an eclectic mix of furniture and a retro-modern feel to the inside of the 15th century, listed building.
Until relatively recently Sophie has kept her hospitality and food experience behind the scenes – working as a Quality Control Manager for fresh produce, and also a buyer for a wholesale food company. I was also extremely surprised to learn that Sophie also worked as a stevedore – loading and unloading ships with a 32-ton crane!
In 2016 whilst running her B&B, Sophie opened Hayes Barns, a street-food style restaurant based just outside Oswestry. Following this, she moved into Liar Liar in Oswestry (where the kitchen has regular 'take-overs' by local independent businesses) before opening a new restaurant, Hayes Kitchen, in Beatrice Street.
Hayes Kitchen opened in 2019 for a brief period, until lockdown, during which Sophie relocated her business to its current premises within the Old School House, set within the grounds of St. Oswald's Parish church.
In acknowledgement of her past working history Sophie says "The sum of all my experiences brought me to this place". When she found out the Old School House building was up for rent, she put together a 38-page document as part of the tender application. As soon as she entered the building for the first time she knew it felt right as the place to run her hospitality business.
After six months of hard work to get the building tidy, rejuvenated and redecorated, The Old School House opened in July 2021. It has since gone on to build an excellent local reputation, and recently won a Good Food Blue Ribbon Award. The awards recognise high customer ratings for quality food, service and value, and excellence within their field.
Becoming an Industry Champion
Of her industry champion role, Sophie says it is something she is new to, but looks forward to developing.
Sophie first started the role after being approached by Derwen in 2022. She initially had a zoom call with students on the hospitality and food pathway. During the meeting she talked to students about what it is like to run your own business, and what she looks for in employing staff.
Sophie was then invited to the 2022 Derwen graduation ceremony, which she enjoyed immensely. She was so impressed to see the students receiving their certificates and seeing how proud they were to have graduated college – like many of their siblings had done in a mainstream setting.
In addition to her role with Derwen College, Sophie also proudly welcomes diversity in her team of dedicated staff, which includes people with autism. Whilst one role in the kitchen unfortunately didn't work out, due to the nature of the very busy and unpredictable environment, another autistic member of her team has worked in a front of house role since opening. "It's about facilitating the right role" Sophie says, "it's important to find the right jobs for the right people". Sophie makes regular contact with this worker's family to ensure she is providing the right amount of support that her worker needs.
Life is always busy for Sophie, who is not content to just sit back once she has achieved something. Whilst keeping the Old School House running, changing the menus and keeping her customers happy, she is already on to the next project. Hayes Kitchen is back in the centre of town now, offering street-food in Oswestry market on a Wednesday and Saturday.
David Pearson, Hospitality & Food's Pathway Lead at Derwen says "We're really looking forward to working more with Sophie in the future. She will bring her wealth of industry knowledge and skills in hospitality to the pathway, helping to inspire and support our students to achieve their goals."
With her drive, ambition, and experience, Sophie Dillon is definitely an asset for Derwen College to have access to and we look forward to the positive influence she will bring to our students.