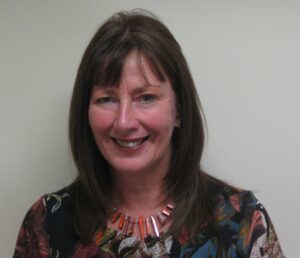 Head of Speech and Language Therapy (SALT) Julie Hawkins started work at Derwen College in Spring Term 2001. We asked her about her 20 years leading the SALT team at Derwen.
What was your previous experience before coming to work in Speech and Language at Derwen College? 
I trained in Speech and Language therapy after school. It's a profession that combines the scientific with the creative, which really appealed to me. I specialised in SALT for children and people with special educational needs and disabilities (SEND). My sister has special educational needs so it was always an area that I understood and was interested to work in. After jobs in  Merseyside, where I'm from, and then Clwyd Health Authority, I came to Derwen College.
What made you want to come to Derwen College? What was your first job here?
When I first started, I was the only speech and language therapist at Derwen, I now lead a small team. I had two young daughters at the time and was able to negotiate a four-day week and term-time only to fit around them. I was keen to work with young adults with special educational needs and to be part of a specialist organisation where I could really get to know students and staff rather than travelling to schools and clinics across a local authority.
How has your career progressed over your time at Derwen?
There have been lots of changes at college, and in my own training and specialisms.
SALT at Derwen is embedded into students' day-to-day lives, so my job involves a lot of staff training in Makaton, dysphagia awareness and Elklan training.
There have been innovations regarding student support as well, such as using the Listening Programme – a neuroscience-based music listening therapy which can improve students' sensory processing skills.
I became a Makaton tutor in 1991, and was delighted to be able to bring Makaton to Derwen College  when it was still relatively unknown. Derwen was only the fifth place in the world to become a Makaton Centre of Excellence. I am now a Makaton Senior Tutor (one of only eight in the country) and a National Symbols Advisor for the charity. The college remains Makaton friendly with a team of Makaton tutors and mandatory Makaton basic training for all staff.
I qualified as a dysphagia practitioner, supporting staff to keep students safe when eating, drinking and swallowing. A significant number of students who come to us have not been diagnosed with dysphagia but are assessed by us when concerns about their eating and drinking are raised during the Admissions process
What has been your proudest moment (or moments) whilst working here?
I am proud that Derwen College is regarded as a 'flagship' by Makaton, with Makaton signs and symbols supporting students throughout college, and all staff trained in at least basic communication skills.  I am proud to call Makaton founder Margaret Walker MBE a friend. She is retired now, but we still keep in touch.
Current Makaton CEO Stephen Hall has visited the College, Makaton have held conferences here, and we have received visitors from around the world, from as far afield as Kuwait.
What challenges have you faced at Derwen?
The pandemic has, of course, been a challenge. Facial expressions and close contact are so important in SALT. It has been hard to keep meaningful contact with students at college and those working from home. We have transparent masks so that students can see our faces, but it is still difficult to work from a safe distance. We've had to be more creative in our work with students, and have been thankful for technology.
What advances have you seen in SALT over 20 years?
SALT is always progressing, and it's important to keep up with training and new methods..
The college's changing cohort, adds new challenges and areas of interest. For example, autistic students can have very different needs and barriers to a student with Down's Syndrome.
For all students, it is vital to understand their level of understanding and to support their communication, whether with speech, signs, communication books and devices or electronic aids. Student have to be given the means to communicate, a reason to communicate, and the opportunities to communicate. We aim to provide the best tool kit possible to support each individual, to try to make their lives easier.
What is the favourite part of your job?
Working with the students. Getting to know and understand them and see them able to communicate their feelings and thoughts.
You get to know their favourite things, what inspires them, what football team they support, or which music they listen to. Students know if you don't understand them, and you can see the relief on their face when they can communicate meaningfully with staff and fellow students.
When you started, did you expect to be at Derwen 20 years later?
Probably not, but I love my job. Before working at Derwen I would work with children in clinics or schools. You would only work with them for that appointment and perhaps only on one area.
I didn't really belong anywhere. At Derwen I feel part of a team and to work closely with students and their care and teaching teams.
What is the best thing about working in SALT?
Communication is the basis of everything and I'm proud to be able to work in SALT. I am particularly enjoying working working with music as a tool to support communication. I am a musician – playing flute and piano, but also a scientist. SALT combines the scientific methods with the creative.
What is the best thing about working for Derwen?
Working with students and staff. At Derwen I feel part of a team, and can help make a real difference to students' lives and futures.