Visit the retail outlets at Derwen High Street.
In line with lockdown restrictions, the Orangery Restaurant and Hotel 751 and remain closed to the public for the time being, but we hope to be able to welcome you back to to these outlets very soon.
(Updated 28 May 2021)
Information and opening times to visit Derwen High Street.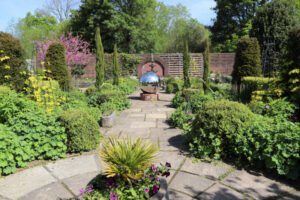 For further information and opening times please see the relevant links on the left hand menu.
Find Derwen High Street
By Car
Derwen College lies just off the A5, outside Oswestry. It is approximately an hour's drive from Birmingham, Manchester and Liverpool, and just half an hour from Shrewsbury and Chester.
Park in the Garden Centre car park. The entrance to the car park is on Twmpath Lane in Gobowen, near Oswestry.
If you use the what3words app, the entrance to the Garden Centre Car park is at ///splinters.sampled.endings
By Bus
Bus stops are near Derwen College ensuring easy transport links to Oswestry and surrounding areas.
The 'Gobowen Agnes Hunt' bus stop is just a short walk from Derwen College's main entrance (on Whittington Road).
'Park Hall Derwen College entrance' bus stop is located on Twmpath Lane. A short walk will take you from the entrance to reception along the public footpath.
A little further away from Derwen College are two more bus stops. 'Park Hall North Drive Junction' and 'Park Hall Orthopaedic Hospital' are a 5/10 minute walk away.
By Train
Visit Derwen by train. Gobowen Railway Station is a few minutes walk away, with direct lines to Shrewsbury, Telford, Wrexham and Chester.
Looking to apply to Derwen College as a student?
If you would like to visit Derwen College as a prospective student, please contact the Admission team to arrange an appointment by telephoning 01691 661234 ext 401.