Update 26th August 2020
We require all visitors to site to complete the form below prior to their visit – please email to [email protected] upon completion.
HR 50 Visitor and Contractor Health Questionnaire v3
Many thanks
Update 29th July 2020
Whilst our students are at home for the summer holidays we are implementing systems and processes for a safe return for all students to college in September.
Our Garden Centre and Garden Café are open to the public. The Orangery Restaurant and Hotel 751 will remain closed to the public but will continue to be used as training areas for our Hospitality and Housekeeping students during the Autumn term.
There are staff on campus at all times and a number of staff are working from home to carry on essential business.
You can contact us by email [email protected] or by phone on 01691 661234.
Update 8th July 2020
Derwen College is open for students and for clients.
From 20th July the Garden Centre and Garden Cafe will reopen. All other commercial outlets remain closed until further notice.
There are staff on campus at all times and a number of staff are working from home to carry on essential business.
You can contact us by email [email protected] or by phone on 01691 661234.
Update 25th June 2020
The commercial outlets remain closed at this time but we are selling plants online with a 7 mile radius delivery service – for plant sales please click HERE.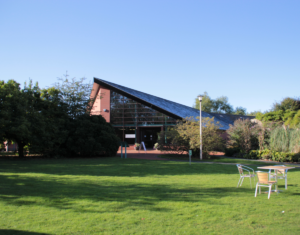 We are following the latest government advice as well as taking guidance from Natspec (the National Association of Specialist Colleges).
Students who are back at home have been provided with learning resources and activities, and we have been pleased to see that some are sharing their work on social media.
Update 22nd May 2020
The College has in place specific Safe Systems of Work to manage the situation as more people – staff and students – return to the sites. These include: further cleaning measures; arrangements for social distancing such as one-way systems in the Walford building and elsewhere as appropriate; handwashing/ cleansing stations across site; amongst other measures. Staff will have specific training on the new arrangements.
This will not be the only way in which the on-site provision is different from before.
At Gobowen, staff are allocated to one specific residence, with its own residents in their care. In a similar way, each residence is allocated to a particular Learning Hub, with its own dedicated curriculum staff. Each residence is classed as a household, for the purposes of applying the current government guidance, and will not mingle with others from different residences. Our aim is to keep contact with different people to an absolute minimum. To reiterate, these arrangements will apply to both staff and students.
The number of staff at the College sites is being kept to the minimum possible. Those that can work from home continue to do so. No visitors are allowed on site.
Students at College will continue to receive the same learning programme as those at home, in order to keep students' learning in line with others. Everyone will understand that the College will not be operating in the way that it did previously, for example there will be no off-site activities and trips, and curriculum areas will be limited.
We will of course continue to adhere to the latest government advice and guidance, and to send updates to everyone as and when appropriate.
Derwen College specific resources can be found HERE.
BEAM – Resources for Shropshire, Telford and Wrekin families – PDF Downloads here: BEAM SLEEPY HEADS GUIDE Beam Phone Support Flyer
http://shropshire.gov.uk/the-send-local-offer/coronavirus-information/
https://library.nhs.uk/coronavirus-resources/accessible-formats-2/
https://www.preparingforadulthood.org.uk/downloads/good-health/resources-and-information-about-covid-19.htm
Mental Health Awareness Week Resources – CLICK HERE
Derwen College Napkin Folding Competition … winners announced HERE
Warning of a scam
Colleges have been asked to share the following with parents and carers, about a scam that is operating. See below for information. Please be aware.
Dear Colleagues
Please be advised that the ESFA have this week released the following update:
"We have been informed some learners and parents have received a letter from ESFA asking for personal learner bank details in relation to the 16 to 19 Bursary Fund. We never ask for personal bank account details. This is a fraudulent letter – please do not respond. Where possible, it would be helpful for institutions to share this message with parents and students through your communication channels."
https://www.gov.uk/government/publications/esfa-update-22-april-2020
With kind regards
CFLC Commissioning Team
Learning Resources
Learning Disability Wales have shared these useful resources here and they include links, guides and contacts.
This link provides a useful resource to support parents who may be having difficulty communicating to their young person about why they are not in college. It refers to college as 'school' but the same message is shared.
Thanks to Makaton for sharing this Coronavirus Social Story resource – https://www.makaton.org/shop/shopping/freeDownloadDetails/Coronavirus-social-story
This could be a valuable resource for some parents and discusses strategies to manage change, anxiety and routine. Thanks to National Autistic Society for sharing.
National Theatre Home – options on their site to watch listed productions.
We continue to follow advice from Public Health England in order to keep out students, clients and staff safe on site. Information, advice and updates can be found at:
https://www.gov.uk/government/organisations/public-health-england
Open Letter from Under-Secretary of State for Children and Families.
Vicky Ford, MP Parliamentary Under-Secretary of State for Children and Families, has asked for her open letter to children and young people with Special Educational Needs and Disabilities (SEND) their parents/carers and families, and all others who support them, to be circulated.
A message from Jessie – working from home