Updates – 19th May 2020
Derwen College is open for students and for clients.
There are staff on campus at all times and a number of staff are working from home to carry on essential business.
You can contact us by email [email protected] or by phone on 01691 661234.
For the time being the garden centre remains closed, despite the recent change in guidance.
The cafes and restaurant also remain closed at this time.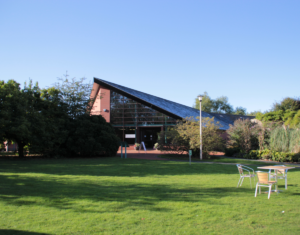 We are following the latest government advice as well as taking guidance from Natspec (the National Association of Specialist Colleges).
Students who are back at home have been provided with learning resources and activities, and we have been pleased to see that some are sharing their work on social media.
Derwen College specific resources can be found HERE.
Mental Health Awareness Week Resources – CLICK HERE
Derwen College Napkin Folding Competition … winners announced HERE
Warning of a scam
Colleges have been asked to share the following with parents and carers, about a scam that is operating. See below for information. Please be aware.
Dear Colleagues
Please be advised that the ESFA have this week released the following update:
"We have been informed some learners and parents have received a letter from ESFA asking for personal learner bank details in relation to the 16 to 19 Bursary Fund. We never ask for personal bank account details. This is a fraudulent letter – please do not respond. Where possible, it would be helpful for institutions to share this message with parents and students through your communication channels."
https://www.gov.uk/government/publications/esfa-update-22-april-2020
With kind regards
CFLC Commissioning Team
Learning Resources
VE Day Activities and Resources LINK HERE
Learning Disability Wales have shared these useful resources here and they include links, guides and contacts.
This link provides a useful resource to support parents who may be having difficulty communicating to their young person about why they are not in college. It refers to college as 'school' but the same message is shared.
Thanks to Makaton for sharing this Coronavirus Social Story resource – https://www.makaton.org/shop/shopping/freeDownloadDetails/Coronavirus-social-story
This could be a valuable resource for some parents and discusses strategies to manage change, anxiety and routine. Thanks to National Autistic Society for sharing.
National Theatre Home – options on their site to watch listed productions.
We continue to follow advice from Public Health England in order to keep out students, clients and staff safe on site. Information, advice and updates can be found at:
https://www.gov.uk/government/organisations/public-health-england
Open Letter from Under-Secretary of State for Children and Families.
Vicky Ford, MP Parliamentary Under-Secretary of State for Children and Families, has asked for her open letter to children and young people with Special Educational Needs and Disabilities (SEND) their parents/carers and families, and all others who support them, to be circulated.
A message from Jessie – working from home