Derwen College's Garden Café has been open since July, providing a delicious menu of home-made lunches, breakfasts, snacks, cakes and drinks.
The café has been adapted to ensure visitors, staff and students are kept safe. But you can still expect the same quality fare and service with a smile that we've always served up. Customer feedback has been overwhelmingly positive.
Customers to the café are expected to wear masks until they are seated at their tables, with service now all provided at the table. Tables are limited to six unless a group are all from one family bubble. And all surfaces and facilities are regularly sanitised.
Regular customers have said how nice it is to see homemade meat and vegetarian specials are back on the menu again, alongside a variety of fresh, home-made food. The usual Garden Café menu includes lunches, light bites, breakfasts, cakes and drinks.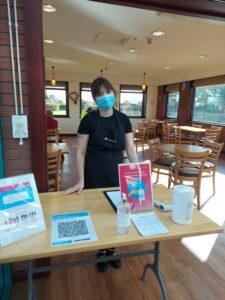 Front of house shift leader Fiona Owen says that customers are getting used to the new way of eating at Garden Cafe. She says, most are really happy with the measures in place.
She says: "Customers are welcomed by the main door by a member of staff. We then take contact details or asks visitors to scan the 'track and trace' barcode if they have it on their mobile phones. We take everybody's temperatures before showing to a table."
Fiona and the team have been delighted with comments from customers who have appreciated the efforts they've gone to.
Here are just a few:
"The café was well presented and I felt it was a safe environment," – a visitor who works locally
"It's so nice to see that homemade specials are on the menu again" – a regular customer
" I feel safe and welcomed, " – a customer with COPD
"I think this is the cleanest place I've been to!" – a first-time customer
"That was the best homemade veg pie I've ever had, and the scones are delicious" – lunchtime customer