At Derwen College, we live by our values. Throughout all aspects of college life, all of us – from students, teachers, care staff, management and governors – aim to be: Caring, Collaborative, Creative, Ambitious and Inclusive.
This month, our focus has been on collaboration. Working together to achieve the best for students, staff, the college, and the community, is something we do all year around. However, for October, we're taking the opportunity to really shout about some of our wonderful collaborations.
October is Work Experience Month. As a college, we are proud of the strong links we've made with businesses, which bring regular work placements for our students, building towards paid employment. We have have achieved three consecutive Gold certificates from Fair Train – an organisation which champions high quality work-based learning throughout the UK.
Our Work Experience and Transition team strive to forge partnerships with businesses in the local community and across the UK. These collaborations bring invaluable work placements to our students in Hospitality and Housekeeping, Retail, Creative Arts and Horticulture. 
Thank you to all our work placement collaborators
We'd like to thank all the businesses who have given their time and support to offer work opportunities for our students with special educational needs and disability (SEND); promoting inclusivity, and encouraging customer service and work skills and self-confidence in our students.
We have a fantastic relationship with Premier Inn hotels. Owners Whitbread supported the college in creating our training hotel Hotel 751 which provides work placements for retail and hospitality students. Students go on to travel to work placements in Oswestry, Wrexham, Chester and Shrewsbury. A high percentage go on to achieve paid work with the hotel chain on leaving college. In turn, we have worked with Premier Inn staff, supporting them with training in working with people with SEND.
Closer to home, there are dozens of small local businesses who share our ethos, and support individual or groups of students in work placements every week. We thank them all (see below for a full list).
This week, we've focused on the efforts of students at our Baschurch satellite site Derwen@Walford who have established horticulture enterprise Leaf It To Us. Students have collaborated with business and council to make a difference in their community. Over the past 12 months Leaf It To Us have been working on designing, planting and maintaining the traffic roundabout in Baschurch, commissioned by Baschurch Parish Council as a community project.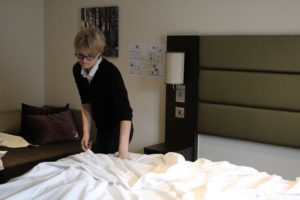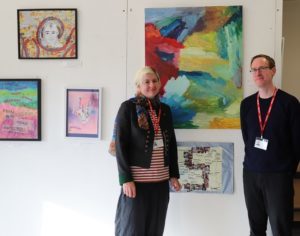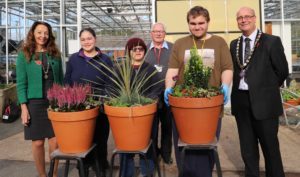 Skills Live @Derwen
This week has also seen the launch of Skills Live @Derwen, a series of competitions which will see a number of students and colleges working together to showcase the skills of people with special educational needs and disabilities. We have welcomed other colleges; industry expert judges; mayor Cllr John Price and Mayoress Cllr Joyce Barrow; and Clare Howard, Chief Executive of Natspec – the membership association for organisations which offer specialist further education and training for students with SEND.
Collaborating with others, being part of a bigger picture is vital at Derwen, but also throughout life. We recognise that all of us have different skills and strengths, that's what makes us better together.
Thanks to work placement providers Kidszone, Gobowen Allrounders, Nightingale House, Moreton Hall School, Severn Dee Travel, McDonalds, Premier Inn, Lepones, Ty Mawr, Treflach Farm, The Spinney, Bryngwyn Hall, Oswestry Cemetery, Oswestry and Gobowen Co-op, Spar, Llangollen Market, Gobowen Library and Oswestry Markets.