Derwen College is extending its programme of short breaks for young adults with learning difficulties and disabilities to provide specialist holiday care and activities all year round.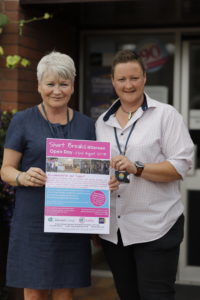 Families are invited to visit us for a Short Breaks @Derwen Open Day on 23rd August, to discover what our short breaks are all about. From January 2019, Derwen College, in Gobowen – which provides training and education to young adults with learning difficulties – is offering residential respite for 18 to 25 years olds for 50 weeks of the year.
Guests can take part in a range of activities and trips, as well as making use of the campus facilities. Holidays are also a great opportunity for young people to meet new people and explore local attractions. There will be a wide range of activities on offer depending on guests' preferences and the weather. Daily activities may include swimming, basketball, use of the gym and football, day trips, shopping, cooking, bowling and cinema.
At the Short Breaks @Derwen Open Day, from 11am-3pm, families are invited to come along and view the accommodation, meet support staff and find out more about the independence skills learning and social life on offer for guests.
Short Breaks guests will have separate accommodation from the rest of the college, with their own room with en-suite facilities. They will have full use of a communal kitchen and lounge with TV and WiFi. Meals are bespoke to the individual's preferences and needs. This is a bright, modern residence with experienced care staff on hand to provide support when required and ensure that all guests get the most out of their break.
Derwen College decided to expand its short breaks provision due to high demand for young people and their families looking for breaks offering specialist care and a quality holiday experience.
With trained staff on site and modified accommodation and facilities, Derwen College is the ideal base for a break for young adults with learning difficulties.
Short Breaks manager Von Bailey-Bolton said: "Everything at Derwen College is already geared towards learning, support and social experiences for 18 to 25-year-olds. We have the expertise on hand to provide a bespoke break for young adults with a range of learning difficulties and disabilities.
"Derwen College has a 'Good' CQC rating, which reflects the high standards of care and good practice offered. At the Open Day we hope to answer any questions that young people and their families might have. Visitors can also view the accommodation and the wide range of facilities we have on offer."
Short breaks are available for any period of time from one day to a fortnight. The facility is open 50 weeks a year, only closing for two weeks over Christmas.
All guests will be assessed as to how to best support and care for them, ensuring the best possible holiday experience.
For more information about the event please contact Von Bailey-Bolton. Email shortbreaks@derwen.ac.uk visit www.derwen.ac.uk/respite-care or telephone 01691 661234.