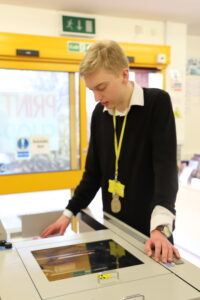 Thomas, aged 23, graduated from his Retail pathway at Derwen College last year, and is now moving on to new adventures back at home.
He is a friendly and sociable young man who hopes to gain employment at a shop or office and live in supported accommodation. The skills he learnt at Derwen have enabled him to progress to a supported internship at his local hospital. He travels independently to the placement where he will work and train in three departments over the course of his internship.
Tom, from West London, has a moderate learning disability and is autistic. He and his parents felt that Derwen College was the right college for him from their first look around.
"There was lots of space and it was quite big, it felt more like a proper college than other places I visited. The accommodation looked like my brother's flat at university," says Tom.
His parents also wanted Tom to enjoy a college experience like his siblings.
"We wanted Tom to have the experience of living away from home and living with other young people, in the same way that our other children did. We felt Derwen offered a full curriculum of meaningful training and socialisation opportunities for Tom. We felt Tom would really enjoy the whole experience. We knew that Tom would not learn and practice essential independence and social skills if he remained supported at home, like all our children he needed to learn this away from home. "
Tom admits he felt anxious when he first started at college but, with support from Student Services, teachers and care staff, he didn't take long to adjust to his new routine, home and surroundings.
For his Retail pathway, Tom took part in internal and external work experience and has completed BTEC qualifications in Vocational Studies.
He liked to work at Derwen's Garden Centre Shop as a cashier or checking stock and shelves, although he says his favourite part of the curriculum was working in the college's on-site Karten Print Shop. Duties at the Karten include printing marketing material for the college as well as for local businesses. During his work at Karten, Tom learnt to use the print shop's industry-standard equipment, and can work efficiently and independently.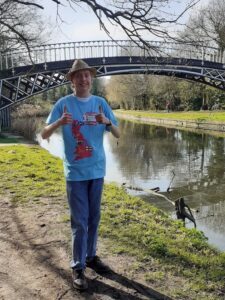 Off-site, Tom used to work at Llanfyllin Spar supermarket one morning a week. He enjoyed the work and being able to interact with customers. His work included stock-taking, checking dates and keeping things tidy.
He says: "It is good to do work experience to learn to get a job and learn to work in a real workplace."
During his time at college, Tom has developed his confidence and independence skills. For three years he lived in a shared bungalow in the Agnes Hunt village with two friends and learnt self-care and household tasks needed for a more independent future.
He says: "I learnt to make my bed and keep my room tidy, use the washing machine and iron my clothes. The staff taught me how to cook food and I can make myself cups of tea and things for my lunch like pasta, eggs or pizza. I put my clothes in the washing machine and I did lots of hoovering and tidying up around the Bungalow. I also went to the medical centre on my own to see the nurses if I didn't feel well."
"Tom's experience of living in a supported living-style environment in the Bungalows has shown him that he can live more independently and with other people. He loved having his own Bungalow and front door key, the freedom to come and go but with staff around to support him. Derwen offers the balance of independence, community and staff support which has been hugely beneficial and enabled Tom to 'be himself'."
He embraced sports, leisure and wellbeing activities outside his retail curriculum and completed his Gold Duke of Edinburgh Award.
"I love music, so really enjoyed being part of the College Band. I also did Go-Karts at the weekends and Boccia on Thursday evenings as part of my DofE Gold. I really liked going on a trip at weekends with the College. I have been doing canoeing, playing cricket and tried fishing."
"I would like to work in a supermarket or office and earn my own money when I leave college," he says.
Tom's parents also saw a change in him when he started at college, and say that Derwen has helped him towards living a more independent life.
They say: "Tom has certainly increased in confidence and is aware of his right to choose, becoming more decisive in his decision making. Tom is more willing to participate in social situations and keen to be busy doing different things. He also made some good friends over his time at college."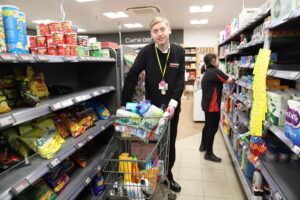 "We would like Tom to find some sort of employment, and feel that the regular retail work experience opportunities at Derwen have been valuable in helping Tom understand what is involved and the type of tasks he might be expected to undertake.
Tom has gained a place on a local Project Search supported internship programme at West Middlesex Hospital. He will be travelling independently to the placement where he will work and train in 3 departments over the next year.
His parents, continue: "The work experiences and skills Tom gained whilst at Derwen were certainly beneficial to him in being successful in his application to the scheme. The internship is a great next step for Tom to build on his skills with a view to finding an appropriate employment opportunity in the future.  We continue to look at local supported housing options but in the meantime, it is great to see Tom being able to look after himself more at home."