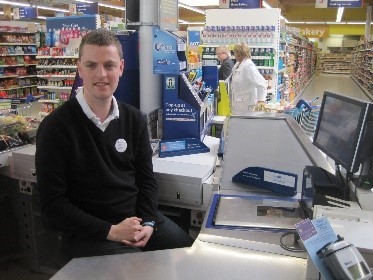 "We can't go to Tesco on Friday, mother, Ryan is only there on Thursdays".
Ryan was a student at Derwen College who has been on a work placement every Thursday at the Tesco supermarket in Ellesmere, north Shropshire.  And what a popular young man he became there!  The above comment was made by a customer whom we spoke to while monitoring Ryan working there one afternoon.  Everybody, whether customer or member of staff, spoke highly of Ryan's enthusiasm, efficiency and thoroughly friendly manner.  The skills he has learnt in the college's Farm Shop (Young's) and on the college market stalls in Oswestry and around Shropshire have helped Ryan master the complexities of working on a till in a modern retail setting.  In particular, Ryan's money handling and change giving skills are as good as anybody's.  Added to his outgoing nature, he has earned all the accolades heaped on him.  As store manager, Lee, says
"I have heard nothing but good about Ryan.  Nobody has a bad word to say about him."
Watch a video of Ryan at work in Tesco, Ellesmere.
And all of this has been achieved by a young man who has moderate learning difficulties, communication difficulties and a condition known as dyspraxia, which means he has poor motor control and spatial awareness.
Ryan studied at Derwen College between 2012 and 2015.  During his three years he gained a host of qualifications and, with the help of Derwen's independent living teachers, care staff and speech therapists he acquired a great deal of self-sufficiency, enabling him to consider moving into independent accommodation when he returned to his Solihull home (where he eagerly anticipated using his season ticket at Saint Andrew's, home of his beloved Birmingham City FC).
For two years in Derwen College, Ryan was a vital member of the student team which runs regular markets in Oswestry, Whitchurch, Craven Arms and a variety of local fairs and food festivals.  Early starts and bitter British weather never fazed him and the hurly-burly atmosphere of a busy market with no automated till really honed his selling and serving skills.  He even found time to hand out leaflets on behalf of the college and the local councils to customers in the high street. Not surprisingly, the warm, comfortable, friendly atmosphere and helpful technology in the Ellesmere supermarket make the job there a "piece of cake" to quote Ryan himself.
They say there that "every little helps" and, in Ryan's case, he has certainly taken advantage of every little bit of help he has been given over the last three years, giving him a head start for his search for a job in the retail sector on his return home.
Find out more about how Ryan's work experience has helped him go from strength to strength...