Derwen College leaver Oliver has kept in touch with College since leaving in 2017. We were delighted to speak to him and his family to find out what he'd been up to over the past three years.
Former Hospitality student Oliver left Derwen College in 2017, having developed his skills at the college's on-site restaurant and café and the college-run Station Café. Whilst at Derwen he also experienced various external work placements including at Premier Inn hotels in Chester and Wrexham.
Oliver embraced college life whilst at Derwen, improving his independence and social skills, as well as taking on challenges that took real devotion and hard work, such as Duke of Edinburgh's Awards.
He never allowed his autism or physical disabilities, including a visual impairment, to hold him back. While at college, he gained self confidence in his own skills, a good work ethic and determination to succeed.
Staff were particularly proud of his commitment to the Duke of Edinburgh's Awards – he completed both the Silver and Gold Duke of Edinburgh's Awards while at college. Oliver took part in gym sessions for his physical section, which motivated him to continue to participate in a gym session with a local club upon leaving college. He attended cookery club as his skill section, which gave him the confidence to be more involved in cooking at home and in supported living – a skill that is particularly difficult for him to master. He also took part in challenging expeditions in difficult conditions.
Oliver says: "I really enjoyed my DofE and liked working as part of a team. I had a great sense of achievement when I finished each section. I was excited to go to Buckingham Palace to collect my Gold Award."
Employment and voluntary work
Since completing his time at Derwen, Oliver has continued to push through any perceived barriers. He has a job in his local Premier Inn, he volunteers at a Scope charity shop, keeps fit, enjoys social activities with peers, loves to travel, and has moved out of home, into supported living locally.
He works in the Thyme Restaurant of Haywards Heath Premier Inn Hotel.
After training with Premier Inn, supported by the work experience team, he went on to paid employment at Premier Inn in nearby Crawley. When his family found out a brand new hotel was opening right in his home town, they jumped at the opportunity.
"We watched the old buildings being bulldozed, and the new hotel going up. As soon as we saw jobs being advertised, Oliver approached Premier Inn about the possibility of a transfer," explains dad Ian.
After an interview, in which it was clear that Oliver was an experienced Premier Inn employee, the wheels were set in motion for a transfer.
Oliver started his new job in February 2020, on Valentine's Day, working six hours a week on a Saturday and Sunday morning. As an experienced employee, he was pleased to be able to offer support and advice to new staff.
Sadly, he was furloughed in March, but is delighted to have now returned to work, albeit in a slightly different environment, with lots of extra training around health, safety and infection control.
Dad Ian, says they have also been lucky enough to stay in the new Premier Inn, as practice guests when it first opened to sample the food, bedroom and a surprise fire alarm test!
The family also make the most of his employee status by staying in Premier Inns up and down the UK. Oliver's hobby is travelling and transport, and he has spent his wages on trips to Glasgow, Edinburgh and Belfast.
Before lockdown they visited Boston, Washington DC and New York. And plan on a trip to Canada whenever they are allowed.
Oliver also works at Scope and has achieved his five-year volunteer award, and taken extra training to become a lead volunteer. He was recently awarded Volunteer of the Month for being the first volunteer back after the shop was shut during lockdown. He started as door monitor to maintain safety in the shop, before moving back into his favourite role on the till.
During lockdown, Oliver has kept active, enjoying walking and baking.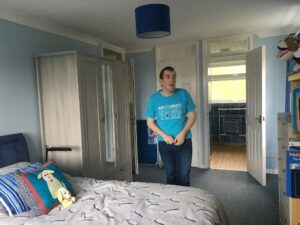 Moving towards independence
He has also kept up the independence skills, and has moved into supported living this year. Working with his social worker, Oliver chose his supported living house where he receives the required support to meet his needs and live independently. He lives with two other adults, with his own bedroom/en-suite and shares communal spaces (lounge, kitchen and garden).
"The plan was always to move into supported living as expressed at annual reviews but it has taken us this long to find the right place, with the right peer group and location near family and work," says dad Ian.
Mum Julie says that Oliver continues to keep up the independence skills he learnt at college.
"He does his own washing, can hang clothes on the line, and is good at baking – especially banana bread and pizza," she says.
His new bedroom has been decorated with Oliver's favourite colour: blue. Using his Premier Inn cash card, he also bought a new Premier Inn bed, and enjoyed a trip to buy new furniture and a houseplant.
A very proud Mum, Dad and sister look forward to his visits home to tell us his news of work, trips out and living in his new house. It is great to see him enjoying the next chapter of his life.
Sport and Duke of Edinburgh's Awards co-ordinator Steve Evans said:
"Oliver achieved his Gold award and exceeded all expectations along the way. He was super dedicated and committed to all the sections of the award.  He absolutely thrived on expeditions and residentials.  He was challenged out of his comfort zone but responded in such a positive way.  He developed so much and it was great to see Oliver become more independent and confident. I firmly believe that participating and achieving the award gave him confidence and skills to use in other areas of life."
Work experience co-ordinator Abi Baker says:
"Whilst at Premier Inn, Oliver worked in the restaurant starting early in the morning, he undertook all tasks that were required to industry standards and he built on his skills in Hospitality and customer service.  After leaving Derwen, Oliver went on to get paid outcome at Premier Inn and a voluntary role at Scope, both are incredible achievements and we are so very proud of his hard work, eagerness to learn and accomplishments. It is brilliant to hear that Oliver is still working hard and that he has found a supported living environment suitable for his needs to remain independent. Oliver has had an outstanding outcome which was all down to him and his supportive family."