Former Derwen College student Mary Woodall shares her experience of work experience with Premier Inn, and how it led to paid work at Premier Inn in Greenwich.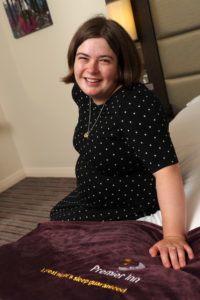 *Edit* See Mary's Vimeo video about her work with Premier Inn! 
I have been employed as a Receptionist at Premier Inn, Greenwich, in south east London since November 2016, but it didn't start out like that. This article relates to how I first managed to gain some work experience so I could enter the world of proper employment. I was a student near Oswestry in Shropshire at a place called Derwen College, which is for young people with special educational needs. Through a scheme that was devised by the College in conjunction with Premier Inn, I was able to gain work experience and, with that, the confidence and skills to make the transition from being a student to paid employment. It took me several years but eventually I got there.
The scheme that I am on, started in 2013 when Premier Inn got together with Derwen College to create a training experience involving work areas including: Service and serving food to customers; Reception and front of house; and House-keeping. Once this was done, Derwen decided to create their own 'Premier Inn work experience area' enabling the students to practise these skills before going offsite to do it in real life. Premier Inn fully supported this initiative.
I had already had trial work experience in the Reception area at college when a team from Premier Inn was visiting the College, I took the initiative to ask if I could have work experience at a real Premier Inn Reception. After some consultation with the management, it was agreed that they would take me on Reception at a Premier Inn in Chester.
When I started at Premier Inn, Chester, initially I had support from a job coach with travelling and so on, but after a few months I was able to gain enough confidence to get to work independently. Initially I started doing morning shifts and progressed to evening shifts.
In 2016 I graduated from Derwen College and I moved back home to the Greenwich area, in south east London. I was enjoying my work experience at Premier Inn located in Chester and, if possible, I wanted to continue at another branch of Premier Inn when I moved back to London. So the area manager for Premier Inn Chester contacted the area manager responsible for my part of South East London and I was able to continue my work experience at Premier Inn, located in Greenwich.
I believe that I was one of the first students from Derwen to join the Premier Inn work experience scheme (and the only one to work on reception).
After a few months on work experience at Premier Inn, Greenwich, they offered to make me an employee, so since November 2016 I have been in paid employment (by the end of November there will be 17 former students in employment with Premier Inn).
My work on reception involves greeting the guests when they arrive and either I enter all their details on the computer or I assist the guests in the Kiosk where they can enter their own details. I'm pretty talkative and I enjoy chatting to the visitors when they arrive. Greenwich is a UNESCO World Heritage site and so we have many visitors from overseas, especially from Spain, coming to our Premier Inn, Greenwich, to look at the famous historical buildings such as the National Maritime Museum and the Royal Naval College. I also provide maps and tourist information to visitors about Greenwich and London generally.
I have several colleagues at Premier Inn Greenwich. I work a lot with Nanna and Linda, and sometimes with Amber as well. We all get on well together and we know it's important to give the guests a big welcome because first impressions really do count and we want our guests to enjoy themselves and feel welcome.
Being employed at Premier Inn has taught me important skills: to be punctual, time keeping and to have a smart appearance and make a good first impression; how to deal with all sorts of people and visitors to the hotel.
Overall this has been a great scheme for me and I'm really glad that I had the opportunity to do it. I am very grateful that Premier Inn were able to devise and run a scheme like this for people like me. I would like to thank the team at Premier Inn for giving me this opportunity.
And, of course, I hope I'll be able to continue at Premier Inn, Greenwich.