LOGAN thrived during three years as a day student at Derwen College's south Shropshire campus. Thanks to his hard work, a bespoke timetable, and the right environment, Logan – who is 19 years old and autistic – has gained the skills, qualifications and confidence to achieve a place at his local further education college.
Logan, from Cleobury Mortimer, on the Shropshire-Worcestershire border, arrived at Derwen College as a shy, nervous teenager. He struggle to fit in to mainstream education which left him feeling low in self-confidence and unsure of where he fitted in.
Logan's mum remembers,
"From the day we came to look at Derwen, we knew it was right for Logan. For a young boy with so much anxiety, he soon fitted in and felt comfortable at last."
Logan spent three years at the south Shropshire campus, which is now at Ludlow Eco Business Park, as a day student on the Business Support and Enterprise pathway. As well as developing customer service, money handling, sales and marketing skills, he also developed skills in independence, health and wellbeing. In addition, Derwen College have a strong programme of sport of leisure activities, and Logan took part in many of these, and enjoyed being part of the Duke of Edinburgh's Awards.
Logan was proud to be part of a team of four who entered WorldSkills UK virtual competitions. They won a Bronze medal in the Media Foundation Skills competition for a media campaign focused upon Respect. The students conducted research, produced a board game, designed a logo, a web page, poster, and a presentation.
Fiona, a teacher at Derwen College Ludlow says:
"Logan came to us a shy, nervous teenager who has since developed into a confident and assured young man, ready to take on new challenges. Whilst he has gained a range of qualifications, Logan has also gained in other ways: he has learned compassion and tolerance as well as having developed resilience and persistence, even when things are more challenging. He has shown sensitivity, support and consideration to his peers and it has been a joy to watch him grow over the last three years to see him now having achieved a place at Kidderminster College for
September 2022."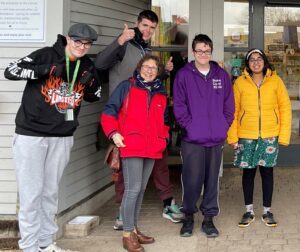 Logan is positive about the future, and has a newfound confidence in his abilities. He says:
"Thank you so much to all at Derwen, for the good times I've had at College. I've loved all of it.
"I have achieved so much being here, such as: completing a Business BTEC, English, Maths and Duke of Edinburgh's Award. We even entered a World Skills competition. When I saw all or our names announced as finalists on the television, I was so happy.
"I have also made so many friends and I am so thankful for that, and I have loved it here."
Logan's mums says:
"His confidence has grown massively. It just shows the right setting for your child can make all the difference. We are extremely proud of all his hard work and determination to push himself. We are grateful to all the staff for helping him achieve and believing in him."
Book to attend our Open Days and find out more about Derwen College and our satellite sites at Ludlow, Telford and Walford.