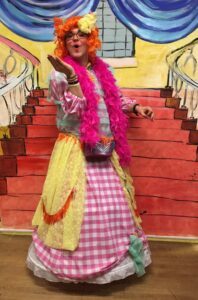 Jamie Bullock, from Amersham, in Buckinghamshire, was a retail student at Derwen College from 2016 to 2019. Jamie is 23 years old and has Autistic Spectrum Condition.
Jamie tells us what first drew him to Derwen College and shares some of the experiences, learning and work that have shaped who he is today.
On your visits to Derwen, what made you think that it was the right place for you?
"I felt like it was a big step forward.
"What I liked about it is that they had places to be in the evenings, there were trips and things to do at the weekends, it was an exciting new place with many new faces.  The students seemed friendly and I liked the fact that a lot of them appeared to be quite high functioning like me.
"I was excited by the Student Union when I saw it and the idea of having regular discos!"
How did you feel when you first started at Derwen?
"I felt all right at first although I didn't know my way around that well, especially as the campus was quite big.  A few weeks later I got better at finding my way around.  It only took me a few weeks to settle in.
"I went home from Derwen every three to four weeks, but it didn't really bother me because there were always lots of fun excursions every weekend as well as frequent discos which I loved!
What things did you enjoy most while you were at Derwen?
"The outings, the discos in the Student Union, the birthday parties, swimming and other evening activities.  I really enjoyed going to the public gym in Oswestry when I was in my third year. The Bradbury Centre, socialising in the Student Union.  A lot of the staff were really nice and sympathetic.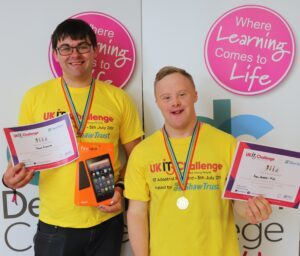 How do you think you changed over your time at Derwen?
"I learnt to cook a lot of things by myself, improved my laundry skills, like changing my bed.  I grew in confidence all round. I learnt a lot from my travel training, although I did have one or two setbacks. I had my first two girlfriends while I was at Derwen, which I really liked."
What did you enjoy most in your learning?
Helping others out, making deliveries, being helped by the staff to build my confidence, being part of a team, helping the other students and showing them where things go.
Which extra-curricular experiences were the most memorable for you?
Being chosen to play the Prince in Snow White and the Dame in Aladdin in the Christmas Shows was great fun. I was also selected twice to take part in a national IT Challenge and even won a Kindle in the second one. I was proud to achieve my Bronze and Silver Duke of Edinburgh's Awards, and enjoyed taking part in the annual Sponsored Walk and a Charity Bike ride, which my Dad joined in with.
Did you make new friends at Derwen?
I made tonnes of new friends at Derwen and even met my first girlfriend!  I wish I could see them more because I really miss the social life I had at Derwen.  I try and keep in touch by Messenger with some of them about once a week.  My mum and I set up a Whatsapp group for Derwen students and parents who live in and around London and we try to meet up for theatre trips at least once every holiday (except for during lockdown!)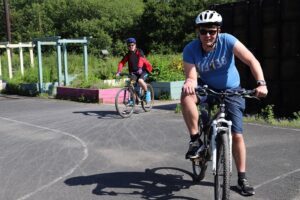 How did it feel to finish at Derwen College?
A bit upsetting. I was sad to leave. Having really enjoyed my time there, I didn't really want to leave.  I really miss the close community I had at Derwen.
What have you been up to since leaving Derwen?
Thanks to the love of acting I got from Derwen, I started a 2-year Performing Arts BTEC at Reading College in September 2019. I am also taking Maths and English GCSEs there.  From September 2019 till Lockdown I was living in supported living in Reading, as the College is too far from home.  When I'm not at Reading College, I take myself to the gym. I enjoy a weekly outing with one of the support workers to the cinema, or to London. I also like going for walks, long bike rides and making videos.
Would you recommend Derwen College to a young person with autism or other special educational needs?
"I definitely would recommend Derwen to anyone. I would tell them that they would love being at the college. I certainly loved my time there. I miss being there and hope I get plenty of chance to go back and visit."
Thanks to my time at Derwen I have since written a speech all about My Life with Autism, which has helped other people understand my disability.