Derwen College Hospitality and Housekeeping student James Ashworth has made remarkably impressive progress during his time at College.
James, aged 21, is now in his second year at Derwen and has worked hard to develop his work and independence skills, proving that he is capable of going into paid employment and becoming a contributing member of his community on leaving College in the summer.
James, from Abermule, in Powys, is autistic and has learning difficulties. He has demonstrated his kitchen skills when he won first place in a catering competition at the college-hosted Derwen Skills Live event. James impressed industry judges creating a two-course meal including a pasta dish and dessert.
He is also the first student at Derwen to take an evening work placement, working in service at Lepones Italian Restaurant, in Oswestry.
During his time at Derwen, James has worked in the college's Food Centre, Orangery Restaurant, Garden Café and training Hotel 751.
He also does external work placements in Premier Inn, in Wrexham, and Moreton Hall School, near Oswestry.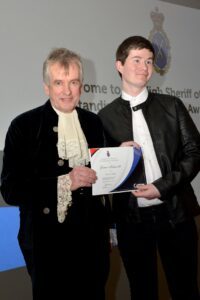 James's progress in independent living skills meant that he was able to move into the college's Agnes Hunt Village bungalow site during his first year – a rare achievement for a 'fresher'. The site offers a more independent style of living than the on-campus accommodation and is the ideal introduction to supported living.
He has learnt to self-medicate and manages his epilepsy well.
Teacher Katie Roberts commended him on his flexible attitude and commitment to learning and work.
"James is the first student to take on an evening shift work placement at a restaurant, showing his commitment to real-life work. He is able to work with minimal support from staff and is progressing towards working with no support from Derwen College staff.
"He enjoys working in catering but also front of house, engaging with the public. He is helpful, has a positive attitude to work and embraced every new experience he is faced with.
"He takes responsibility for his own independent living, learning and work."
James was recently nominated for a Shropshire High Sheriff's Young Citizen Award for his commitment to work, independence and community.
Of his future aspirations after College, James says: ""I would like to get a job in hospitality and find myself a home for myself."