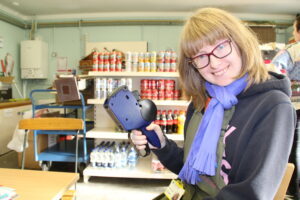 Bethan is a former residential student at Derwen College. She graduated from college in July 2019 after spending two years working in the Retail pathway.
The skills and work experience that she gained at Derwen College, have enabled her to get a job at Co-op, in Llanidloes.
Bethan and her family found out about Derwen through Bethan's school – Ysgol Cedewain, in Newtown, Powys –  and advice from Careers Wales. They visited several colleges in and around Wales but thought that Derwen was the most suitable.
"We liked the quality of the accommodation and facilities and the pastoral care set up," says Bethan's dad.
Going through the Admissions process, Mr Charles says they received great support from Careers Wales, Powys County Council and Derwen College.
Bethan has autism and some associated anxieties and learning difficulties, and was understandably anxious being away from home for the first time. However, she soon found her feet in the Retail pathway and made some friends through clubs and in her accommodation.
"I felt scared and shy and worried because I was away from home from the first time. After a short time I felt comfortable and made new friends."
Working in Retail
Being on the Retail pathway, Bethan had the opportunity to learn retail skill at the college's Garden Centre Shop and Karten Print Shop, as well as on external work placements and at Derwen College's stall at Oswestry Market. She learnt skills such as stock taking, shelf stacking, merchandising, customer service, pricing, marketing and using a till.
"I enjoyed working in the Garden Centre and working in the market in Oswestry and doing work experience in the Coop in Oswestry. They were great and fun places to learn in," she says.
Outside of work, Bethan became an important part of the College's Learner Voice initiative.
Bethan (and fellow student Thomas) was voted on to the national NUS FE committee.
She was elected onto the Student Union Board at the college in her first year as the representative for the freshers and the year after as a deputy representative for the Retail Studies department.  Her role on the Student Union Board involved communicating with other students, who have a range of learning difficulties and disabilities, gathering their views to take to meetings with college leadership team and governors in order to affect change at the college.
Bethan also took an active part in fund-raising activities for Children in Need and Sport Relief to raise money for charity.
Student Union Board
Bethan took her position on the Student Union Board at Derwen very seriously. This inspired her to stand for election with the National Union of Students (NUS) for a position on their Further Education Committee.  Bethan wrote a manifesto for the elections where she talked about the importance of NUS's work with students with special educational needs and disabilities (SEND) and how crucial it was that they understood what was happening. She made clear that she could support learners by using Makaton, a language programme that uses signs and symbols to support people with a range of learning and communication difficulties. Bethan's message won her a place on the committee where she represented students with SEND on a national platform.
Bethan's community work won her a nomination in the High Sheriff of Shropshire's Young Citizenship Awards 2019, for which she was Highly Commended.
New confidence
Bethan says her time at Derwen has helped her confidence as well as her work skills.
She says: "I am not so shy and feel more happy and safe around college and getting to help others who need help to make sure they don't get bullied or hurt. I learnt lots of good customer service skills and helping people and making sure things are clean.
Bethan's parents have also seen a change in her over the two years.
"Bethan is more positive and confident. She has also learnt more independence skills which she is doing at home. She is also very aware about safety on the internet and outside."
Bethan says it was sad to finish at Derwen College but that she enjoys using her works skills and newfound confidence back at home in Powys, North Wales, especially in her job at Co-op.
She says: "The last day I was sad but happy. It was hard to say farewell to my friends but I was glad to finish so I could go home and use my new skills."
Update (January 2021):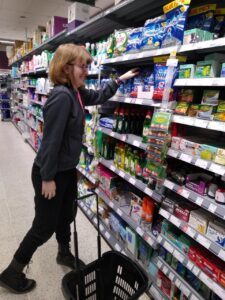 Bethan contacted college to tell us about her job at Co-op.
She says: "I am keeping well and I have been working at the Coop in Llanidloes since September 2019, and I work on a Monday for two hours. I had to stop when the first lockdown happened but this time I have carried on working through.
"In the Co-op, I move things forward on the shelves. I do six shelves, and I also do the recycling, and sometimes I help customers and help clean the tills and the baskets too."
Bethan says she is missing the friends she made at college and hopes to be able to see them again soon.
We are all very proud of Bethan's success, and look forward to seeing her again when we are able.
If you're a former Derwen College student who would like to share your story on our website, we'd love to hear from you too.