Adam is a 22-year-old former Hospitality and Housekeeping student at Derwen College.
He completed his Bronze Duke of Edinburgh's Award at St Catherine's school on the Isle of Wight. He started working towards his Silver award at Derwen College. In 2019, he progressed to completing his Gold Award.
Adam, who has Schuermann's Disease (a developmental disorder of the spine), epilepsy and dyspraxia, has overcome anxieties and gained self-confidence through Duke of Edinburgh's Awards.
Since leaving Derwen College, Adam has enrolled at Nescot FE College where he is continuing to study Catering and Hospitality and hopes to get a supported internship.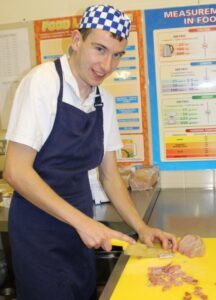 Q1. Why did you sign up for your DofE Awards, what appealed to you about the awards?
I wanted to challenge myself and work towards being more of a team player.
Q2. What do you feel you have gained from doing your DofE?
I have gained more confidence and learnt many new skills. I had to use literacy and numeracy skills to follow instructions and learnt to read maps. I found learning was easier outside of the classroom.
Q3. What was the most challenging part and how did you overcome this?
The walking expedition over four days was hard but also the most exciting part. We had to work as a team and help each other out. As a team, we had different ways of doing things and we had to work through our differences in a calm and sensible way. We learnt to talk through problems and be more tolerant of each other. As I got more confident, I found I had good leadership skills and enjoyed leading the group.
Q4. What is your favourite DofE memory?
I live in London so the scenery in Snowdonia was amazing. I loved being outdoors. I felt more relaxed and able to overcome challenges.
Q5. How does doing the DofE make you feel? Do you feel more confident? Do you feel better equipped for the future?
Being on DofE expeditions made me feel more relaxed and motivated me to overcome challenges. It gave me a great sense of achievement and taught me new practical skills. I sometimes find it hard to focus on a task but with DofE I was engaged which made me more confident and keen to take on more of a leadership role.
Adam's Dad said: "The team at Derwen ensured that the students were very well prepared and supported. We appreciate how much work is involved, supporting students with complex needs. While at Derwen College, Adam successfully completed his Silver and Gold Awards. Through participating in the DofE programme he learned to work as part of a team, believe in himself and to try new things."
DofE has given him confidence and a belief in himself and try new challenges. After leaving College he embarked on his first half marathon and finished in an incredible 1 hour 49 minutes!