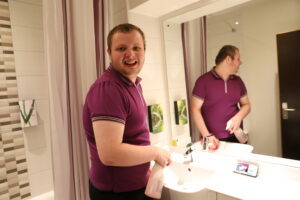 Former Derwen College student Adam, from Oswestry, is proud to have left college with a job at Premier Inn in Oswestry, working three four-hour shifts every week.
Adam, aged 20, was a Hospitality and Housekeeping student at Derwen College from 2016-2019. During this time, he worked in the college's on-site Food Centre, Orangery Restaurant, Garden Cafe and Hotel 751 Training Hotel.
Adam's journey into employment started through training at Derwen College. Adam accessed hospitality and housekeeping work experience at the College's on-site Hotel 751 training hotel and at supported work placements at Oswestry and Chester Premier Inn hotels. He also had the opportunity to work towards qualifications in hospitality as well as functional skills and employability skills.
Adam was one of the college's first students to benefit from the Derwen College-developed 'Premier Inn app'. The step-by-step app on his mobile phone prompted him step-by-step through the process of servicing a room. He knows the routine with very little support but is reassured by the safety net of the app. Adam still uses the app today to support him in his work.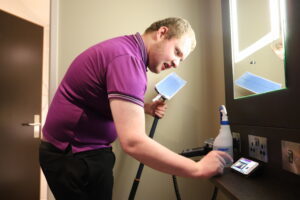 At Premier Inn, Adam works in housekeeping, servicing bedrooms for guests, and relishes the routine of his work. Adam likes to greet guests with a friendly 'Good Morning', and enjoys the camaraderie he has with his colleagues. He likes the feeling he gets from a job well done, and is also excited to receive his monthly pay slip.
He says:"I use the app on my phone. The app has helped me a lot to get things in the right order. Sometimes I do forget things and I can use the app for a prompt.
Adam has moderate learning difficulties and Autistic Spectrum Condition, but has never wanted to be held back by his diagnosis, and has always wanted a job and to contribute to society.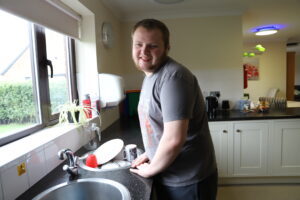 Mum, Cath Gill, says: "From a young age Adam wanted to grow up to follow in his big sister's footsteps, and to work and live away from home which are things that he sees that every adult does. Thanks to Derwen College and Premier Inn he has been able to fulfil his ambitions.
"It's the perfect job for him. He loves the routine, and the reassurance that everything has to be done in a certain, specific way in a particular order. The Premier Inn team have been just fantastic, and he was very excited to have been invited to last year's Christmas party."
Adam says: "I like my job. Guests say 'Good Morning' and I say 'Good Morning back, and I like to follow the instructions on my phone. Everyone is nice to me and it's really good to have a job with my own money!"
The next step for Adam is a move into supported living with three other young adults – a move which has been made possible thanks to a newfound confidence and independence. Adam, who was a day student whilst at college, has returned to Derwen's Short Breaks facility with his future housemates to practice independence and team skills.
He has been busy scouring the charity shops for bargain essentials. His first pay cheque enabled him to buy a slow cooker – life doesn't get much more grown-up than that!