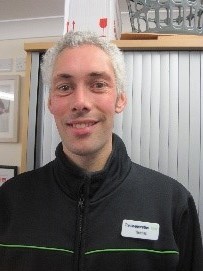 When Tom was a young student at Derwen College he was given a work experience placement at the nearby Co-op store.  He was obviously a great success there, gaining "A"s in every area of assessment.  More importantly, he was remembered with such affection that he has now returned as a part-time paid employee.  "This was due," says Abi, the college's Work Experience Co-ordinator "to his hard work, competence and excellent team work."
Although working only one morning a week, Tom has already been given a further hour and a half's work there. As well as being paid, Tom receives the same benefits as any other Co-op employee e.g. holidays and the uniform you can see him wearing proudly in the picture above.
Tom looks forward to this break from his normal routine every Friday, consistently arriving ten minutes early, fully prepared for the morning ahead. Tom's main job on the day is to see in the chilled deliveries, getting them on the shelves or into the stockroom.  This fills most of Tom's morning but, even when there is no delivery or the work is finished early, Tom does not hang around.  As Sarah, assistant manager at the store says, "he is really switched on" and will keep finding work which needs doing. Staff at the store enjoy Tom's company too. "He's got good banter," Sarah says, a very important skill even Derwen can't teach.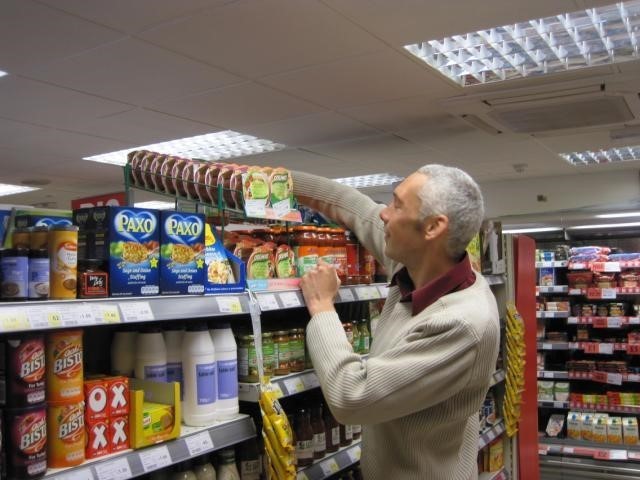 Tom also works one day a week in the college Garden Centre which explains why this young man, who followed a Horticulture course, has found work in retail. It just shows you don't know where your skills will lead you. Both Sarah and Geraldine, who is managing the Garden Centre, praise Tom's independence. Says Geraldine, "He is always looking for jobs to do. He is very pro-active and does not like standing around."
Tom walks the short distance to work. Living semi-independently with other ex-students, road safety, along with other basic skills like cooking or shopping which most of us take for granted, is something Tom learnt during his three years at residential college. Asked how college helped him to find work at the Co-op, Tom praised both Mr Beaman who found him the original placement and Simon and Abi who now manage the college's work experience programme.
Tom takes his natural eagerness and his sociable, polite disposition into work as could so many young people with learning difficulties if given the chance. Research shows that this group of young people have many such qualities which can be utilised by employers if they opened their doors to them.