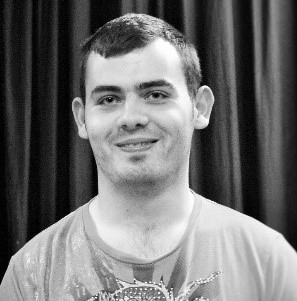 Peter was an Art student at Derwen College.  His story is sure to make you think about the way life works.  In his own words:
"When I was seven years old I was scratched by my cat.  After a few days I was in a coma which lasted for five weeks with encephalitis (water on the brain).  After I woke I couldn't do anything.  I had to learn how to walk, eat, talk etc."
The infection Peter caught, from a bacterium called Bartonella henselae, usually only causes flu-like symptoms but, unfortunately for Peter, it can and did cause a rare infection of the brain.  Peter battled hard to overcome these issues and, eventually, was able to return to mainstream school.  Unfortunately, a different problem reared its very ugly head.  In Peter's words again:
"In Year 8 or 9 I got bullied badly by two people. They just started picking on me and their mate recorded it and put it on You Tube."
It's an eternal question where disability is concerned: who exactly has the problem?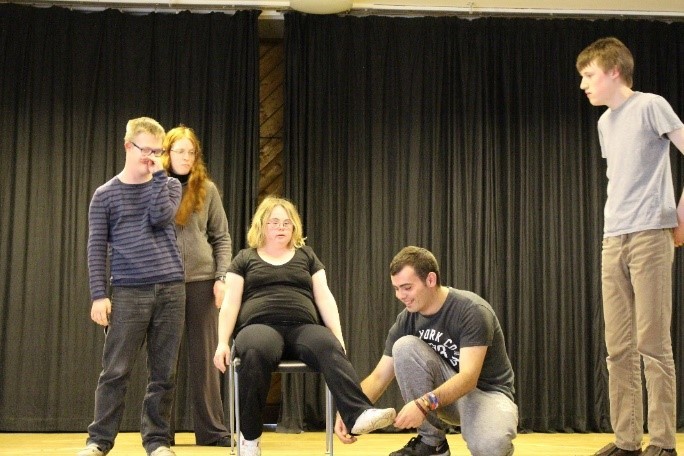 Peter moved school and eventually gained a place at Derwen College.  Peter is full of praise for the specialist staff who have helped him there.  Again, in his own words:
"The nurses there helped me with being independent with my medication which helps control my epilepsy.
When I started at Derwen College I started in Junior Middle College…..I met Alex there who is still my best mate. Later, I moved to New Lodge which is an independent bungalow.  I have to learn to cook meals and keep the house tidy.
I have Physio most of the day Wednesday with Karen and Rachel. I have lost weight and improved my balance and walking and now I'm independent and just get on with my exercises.
My main department is Creative and Performing Arts… in my first year I was very shy… but come my 2nd year and 3rd year I have been involved in the Christmas Show, Derwen on Tour and competitions."
In fact, this year, Peter has one of the leading roles in the college panto as the baron in Cinderella.  He is also in the college's football squad, playing recently against a team from Wrexham FC Disabled Supporters.
Derwen College is able to help Peter in all of the areas above because of its unrivalled specialist facilities.  Apart from the services referred to by Peter other specialist services available include Speech and Language Therapy, Occupational Therapy and Behavioural Support.
With all of this help Peter, who loves a bit of competition and targets to aim for, has been able to push himself higher and further, helping to banish the events of his childhood far into his memory.
Below are some useful links: