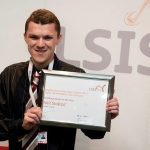 Neil holding his national award from the Learning and Skills Improvement Service in 2011.
Neil, who has Asperger's Syndrome, left Derwen College in July, 2012 having made an incredible impact on student life in his three year stay. During this time he became both secretary and eventually president of the Student Union, winning awards at national level for his work.  He attended national conferences and many of the improvements he negotiated for on behalf of students were made and are still in place today.  Not surprisingly, when he was approached about this project Neil to take part but also provided his own case study.  So, here is Neil's take on his post-college career.
"It was an absolute pleasure to work with you for 3 years on the council and you taught me so much that I have taken with me into my new life."

(Neil to Sarah, Learner Voice Co-ordinator at Derwen College)
My name is Neil and I am 26 years old and this is my story of how I achieved my dream job. I have been working for a company called Forrest since January 2015 and I am really enjoying working there with some wonderful people. I started out as a stores labourer but through hard work and circumstances changing, I moved into an office based role where I have been working very hard on a variety of tasks including typing stock lists, scanning and checking the list of vans that have been used through the weekend. I am now officially in the position of Apprentice Administrator which I am very happy about.
The learning and development team along with my manager feel that my skills and qualities are better served in an admin based role. I have fully embraced the responsibility that they have given me and I am also working as the receptionist at our Lostock Lane office which includes greeting the visitors and making sure they sign in correctly. A variety of visitors come to our base for many different reasons such as a training course, disciplinary hearings, progress/review meetings with the L and D team, appointments with People Services etc.
It is very rewarding to know that they appreciate the hard work and effort that has been put in over the last few months. They have given me fantastic support and guidance which has helped me achieve this goal that I have had for many years since before I went to College. I am very grateful that they gave me a chance to show what I had to offer to Forrest and then realised which role could help me fulfil my potential.
There is a real togetherness and spirit amongst the team I work as part of and that helps me to enjoy the role that I am currently employed in. I am going to be working on a qualification in business administration in the future which will be another achievement to look back on with pride.
Thank you for reading this piece and I would like to thank Derwen College for their continued support and interest in my progress. I really do appreciate it and will always want the College to continue their outstanding progress and well deserved success.
Neil was a tremendous student at Derwen and it looks like he is a great employee too. Well done, Neil.