'People think because we are disabled we can't do things but we can.'
The words above are spoken by Jess Hiles, writer.  Well, maybe that's not strictly true.  The words are actually spoken by Jess the Goth Fairy, a character in the book of that name co-written by Jess and her mother, Jo.
Pictured above holding a copy of her book, Jess is determined to prove how right her Goth Fairy alter-ego is.  She has never let her learning and physical disabilities hold her back. Apart from her writing aspirations, she has worked part-time for a garden nursery in her home town of Redditch in Worcestershire ever since she left Derwen College in Shropshire ten years ago.  She is also an active member of the People's Parliament, representing Worcestershire for whom she has worked on White Papers dealing with issues such as jobs, hate crime and internet safety from a disability perspective.
She is a committed campaigner on behalf of all disabled people, another of her jobs being to report on how good disabled facilities are in towns around the country on behalf of 'Buzz Board', a group of young people with learning difficulties in the Worcestershire area.  And all of this only takes Jess as far as Thursday.  On Friday Jess teaches British Sign Language in a local Day Centre.
So, is this the full CV?  Not at all.  Jess is also gold and silver medallist at standing long jump and throwing the soft ball. Her medals were obtained in national competition.  Finally, this energetic young lady also manages to find time to take part in local shows.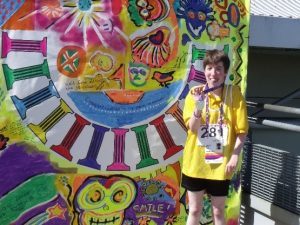 Jess is seen here proudly holding her gold medal.
So, who is to thank for enabling Jess to achieve so much in the face of her disability?  Well, first and foremost it has to be Jess herself, of course.  She has proved to have the determination and motivation to live her life as fully as possible.  But, she is full of praise too for other positive influences on her life.  She loves to go back to her old school, Pitcheroak, in Redditch and to Derwen College which she attended from 2002 to 2005.  Only recently, she was at the college fete, signing copies of her book and renewing acquaintances with staff and friends from some of her favourite years.  Jo, her mother is listed as co-author of her book having helped with the proofreading and has helped fund its publishing through crowdsourcing company Kickstarter.com.
Jess lives in a flat of her own in a block shared with five other disabled young people.  She is full of praise for MacIntyre, a charity which provides her with the little bit of help which she needs to help make her life so complete.
Jess' story is an all-round inspirational one, encompassing achievements of both mind and body.
Below are a number of links to organisations referred to in Jess' story.