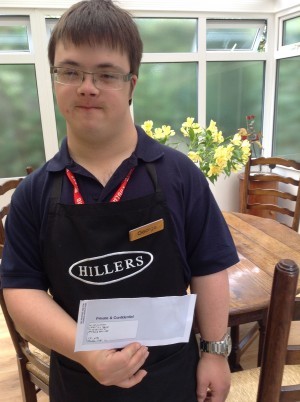 George started at Derwen College in Oswestry in September 2011 and finished in July 2014. He has Down's syndrome and severe learning difficulties. George's long term goal was to gain paid employment within the local community. George's vocational studies were in Hospitality and Retail and his future plans were to work in a shop.  In preparation for this, George had work experience in Young's Farm Shop, one of Derwen's commercial enterprises, to develop his skills and enhance his chances of achieving his ambition.
George attended an interview at Hillers Farm Shop which is close to his home in Warwickshire. There, he outlined the qualifications and skills he had acquired at Derwen College. He was also able to display his e-portfolio, showcasing these skills.  Impressed, Hillers offered George paid work, starting with two hours per week but with a view to increasing this when George had settled in and proved his worth. George accepted this and began working for Hillers. George's mum has stated that the transferrable skills George learnt at Derwen College were crucial in securing this position:
"He had a good experience of work this afternoon. He bagged up nuts and seeds at a certain weight for customers who like to feed the birds. He sorted out fruit and different varieties of oranges in the store room, loaded them up and took them to the farm shop and put them on display. The portfolio you produce with the students at college is excellent. Having the photos as visual proof of the work experience he had done gave the employer an idea of what George may be capable of. The qualifications he had gained were also included, along with a list of his internal and external work experience and CV. This gave George confidence to look through it with his employer and talk about his work. It was a really useful aid and the farm manager was well impressed.  She said that he's more qualified than she is! Everyone was friendly and helpful to him."
George is now continuing his Hospitality and Catering Studies at Leamington College, attending three days a week. One day he may be deciding on menus before cooking the meals and, on another day, he may be working in the bistro, serving and clearing up.  He is also taking maths, English and ICT lessons to build on the functional skills he gained at Derwen College. He cooks for and serves students and staff in the mainstream college as well as any visitors to the college. Also, he is called upon to work on themed evenings. He still has his paid job at Hillers Farm Shop and now has more hours. He gets on well with everyone and loves it.