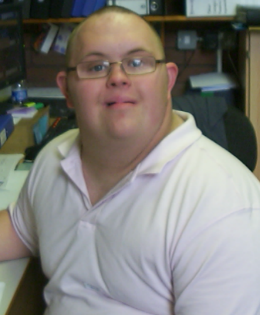 Charlie arrived at Derwen College near Oswestry in September 2009 and finished in July 2012.  A Shropshire lad with Down's syndrome he quickly found his niche in the college's Practical Skills department where he gained lots of hands on experience working in a variety of roles from car valeting to recycling.  This latter work led to a work experience placement at Cae Post Recycling Centre near Welshpool.  He thoroughly enjoyed this placement which suited his down to earth, hands-on approach.
Not only did Charlie benefit from the college's outstanding contacts with local employers but, having a hearing impairment, he was able to access the college's own Speech and Language Department where he responded well to the help given.
All of this enabled Charlie and his local authority, Shropshire, to find Charlie employment when he left in 2012.  He is now working as a farmhand at Oak Farm near Much Wenlock, a role which entirely suits his approach to work and to life in general. At Oak Farm, he arrives at eight thirty every morning to begin work, feeding and cleaning the animals.  Later on, Charlie will often be found working with light machinery such as the mower, the strimmer or the rotovator although he still has to be reminded that mowers prefer to go around obstacles rather than straight through them! Charlie has worked on many other tasks at the farm, including building the new raised strawberry beds. In fact, he loves his work so much that support worker, Claire Pugh, says that "he will work for hours if left to it".  He has recently asked for more hours if and when they become available.  This is all so indicative of Charlie, a worker described by staff as a "really lovely lad".
Outside of work, Charlie lives with three other people in a house close to his work.  Here, he lives an independent life but with regular daily and overnight visits from care staff.  A keen Manchester United fan, Charlie, who played for the college's football team still manages to go cycling and to keep fit. He does miss the social life he was used to at college although he manages to keep in touch with a former friend also from south Shropshire.