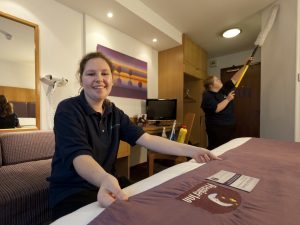 Elizabeth, who hails from Berkshire, is a student at Derwen College near Oswestry. She has a moderate learning difficulty and a mobility problem which means she needs a wheelchair for all but short distances.  Despite this, and thanks to the college's physiotherapy department, Elizabeth has, for the past few months, been working at Premier Inn hotels in Chester twice a week.  More remarkably perhaps, she makes the thirty mile journey to one of her hotels by train.  She is perhaps lucky that the college is only a mile or so down the road from Gobowen station and the Premier Inn is even closer to Bache station at the other end.  Nonetheless this is still quite an achievement for this cheerful and friendly young student. 
Premier Inn expect their staff to adhere to a very exacting set of standards and Elizabeth is not exempted from these demands.  This is exactly what is required as, in the words of Simon Birch, Derwen's Work Experience Manager, 'To gain employment our students have to know, and work to, the latest industry standards'.
Elizabeth describes her day. 'It begins with a taxi journey to the station where I get on the train to Chester and then I take a second train to nearby Bache'.  She then walks the short distance to her workplace. She does this independently albeit with a member of the college staff close by. On arrival at work, she 'collects her stuff' and sets off to clean her allocated room.  She loves her work, although she does say, 'Some people leave their rooms rather messy, especially if they have been to the pub. After completing my room, I set about loading the cleaning trolley'. Yvonne, a Derwen staff member who accompanies Elizabeth says 'Elizabeth chooses this task on her own initiative and thoroughly enjoys it.' Her work is checked and, according to Premier Inn staff, is always of a very high standard, 'especially her bathrooms'.  This may be due to Elizabeth's innate willing nature, but also to the college having a fully equipped Premier Inn room set up on campus, company décor and all.
Last month, while at home, Elizabeth was able to work at her local Premier Inn in Marlow and received excellent reviews from management and staff there too.  Elizabeth's achievements are a reminder that we should concentrate on the person's abilities and not their disabilities.