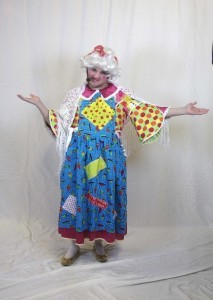 Darren started at Derwen College in Oswestry in September 2011 and finished in July 2014. He has Asperger's syndrome and severe learning difficulties.  Darren's dream was always to be on stage, preferably playing the lead role.
When Darren came to us he struggled with the new routine of work and college life.  Darren's ability was clear from the start – he was able to file documents, use office equipment safely after one demonstration, follow written and verbal instructions to produce high quality work, understand and discuss performance techniques and follow dance routines with minimal support.  Darren could do all these things but found the environment, his peers and the different work routines so challenging at times he would leave rehearsals and refuse to return.
We could all see Darren's potential.  Step by step we built up Darren's confidence through encouragement, reassurance, reinforcing professional boundaries and by providing an environment in which he could feel safe and supported to be able to develop at his own pace.
By 2012, Darren was beginning to believe in himself and by Christmas he played the Dame with consummate professionalism in our 'Wizard of Oz' pantomime.
Darren then went from strength to strength.  He led the complex dance routines in the many derwen-on-tour performances across the country, he led the student flash mob team in the Eagles Meadow shopping centre in Wrexham, attended the 'World Skills Showcase' at the NEC in Birmingham and played the beast in our production of 'Beauty and the Beast', among many other small and large performances at the college's open days.
Darren has now gained employment in the Young Actor in Action Transport Theatre in Whitby Hall. It is fantastic to hear that Darren continues to follow his dream, we are so proud of him.